Meet our classic collection that has sold out 5 times: we're not biased when we say our home state produces the best and boldest wines in the world.
Can't make a trip to California? We'll send California to you. Our O.G. Mixer will take you on a top-down tour of sun-drenched coasts and golden vineyards.
Scroll to see what's in stock, as each vintage and varietal is limited edition and changes periodically.
Additional Information
Eight carefully selected gems, bottled by the glass, highlighting the low-key, bold, and glamorous tastes of our Golden State.
Shipping & Delivery
Title to and ownership of alcoholic beverages passes from In Good Taste to buyer in the state in which the sale occurs, and the buyer takes all responsibility for the product being transported from the state of sale to the buyer's selected destination. The buyer may pick up the product at the seller's location, or make independent delivery arrangements. Sales tax will be applied based on the seller's location. In Good Taste makes no representation as to the legal rights of anyone to deliver or import any alcoholic beverages or other goods into any state. The buyer warrants he or she is solely responsible for the transport of the purchased products and for determining the legality and the tax/duty consequences of bringing the products to the buyer's chosen destination.
All wine deliveries must be signed for by someone over the age of 21.
P.O. Box addresses are NOT permitted and the following states prohibit online wine sales: Alabama, Alaska, Arkansas, Delaware, Kentucky, Mississippi, Rhode Island, and Utah. At this time we cannot ship to Hawaii or International addresses.
Why Mini Bottles?
Whether tonight is the "my roommate isn't drinking" or the "I have a big meeting tomorrow" night, we're here for you.
The perfectly sized pours to explore, for less wasted wine and fresher sips.
Includes eight (8) 187ml bottles, equal to 2 standards-size bottles of wine.
Our minis are the highest rated wines to be bottled by-the-glass, ever.
Enjoy more variety, more fridge space, and the cutest mini bottles for upcycling crafts.
Virtual Tasting
Find New Favorites
Turn your living room into a tasting room with our Virtual Wine Tastings. Sip back and relax from the comfort of your home while our wine expert guides your friends, family, group date, or coworkers through a fun interactive tasting.
Thank you so much for an amazing tasting! The entire team were raving about the experience, specifically your guidance and wizardry!
Andrea
I brought these to my friends bday over the weekend and she LOVED it! Definitely going to be my go to gifting option.
Amanda W
This was very delicious and refreshing. The Cabernet Franc was my favorite - fruity AND spicy this reminds me of Christmas. I also need to remember this Rose which was not too sweet but more dry than any I've tried. Very nice!
Margi C
We recently held a virtual wine tasting for our clinical team. From the ease of ordering, phenomenal customer service, to the tracking so I could ensure everyone was home to sign for their flights- I was so impressed before we even received the wine.
Desire' S
In Good Taste on Instagram
Reviews
Wonderful gifts
The multi packs are great client thank you gifts - clients love them! They think the bottles are "so cute".
Beyond Amazing
I purchased this set as a thank you gift. Through not fault of IN GOOD TASTE the package was never delivered (UPS problems). I spoke in chat with their customer service and they let me know that the items were already on their way back to California from Maryland because they could not be delivered. I explained my situation and let them know how disappointed I was because it was meant to be a thank you gift. The helpful customer service rep said "let me see what I can do." The next day I received an email that a new package was being sent out. 2 days later I received a thank you text from my recipient. They loved the gift and it all looked so cute.
Amazing customer service and a super Instagram worthy product.
Delectable!
A great variety of delish and tasty wines!
California Wine Mixer Collection
I would recommend this wine collection as a gift for every occasion, including a gift to yourself! My daughter and I shared and enjoyed every wine in this collection. The bottles, packaging, and description booklet were right on the mark, extremely cute, and even had comments that someone in CA would totally understand and laugh about! I'm looking forward to trying all their collections!
Great Wine
This was a great mix of wine! Loved all the reds and the whites were really good as I am not much of a white wine drinker. There is something for everyone in this mixer. Would order again!
Not a bad bottle in the batch...
Absolutely LOVED this selection.
If the cuteness of the bottles doesn't win you over - the selection will. EVERY bottle had something for someone
to enjoy. This will make a great gift ! I cannot say how well curated this selection is.
It's okay to play favorites.
Tasting Notes: Smokey grapefruit, citrus, tangy. Food Pairing: Sushi, goat cheese...or overpriced arugula salad. Vintage: 2020 / AVA: Central Coast, CA.
For such a reliably refreshing wine, sauvignon blanc hasn't always gotten the respect it deserves. As late as the 2000s, vineyards were giving these grapes the boot in favor of drier chardonnays. Thankfully, this delightfully acidic, sweet-and-sour white doesn't hold a grudge. We can't wait to make up for lost time.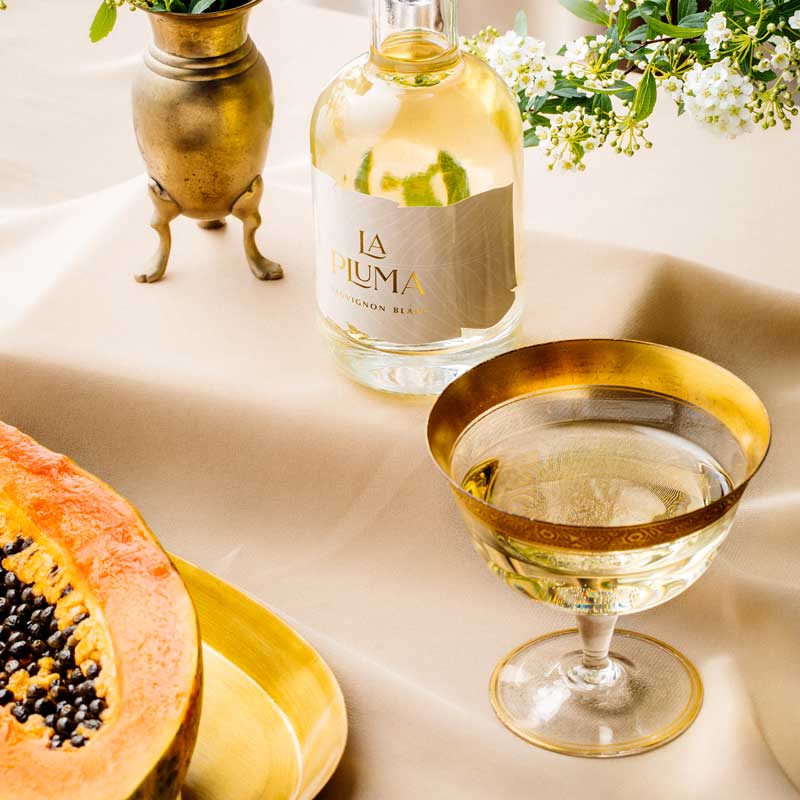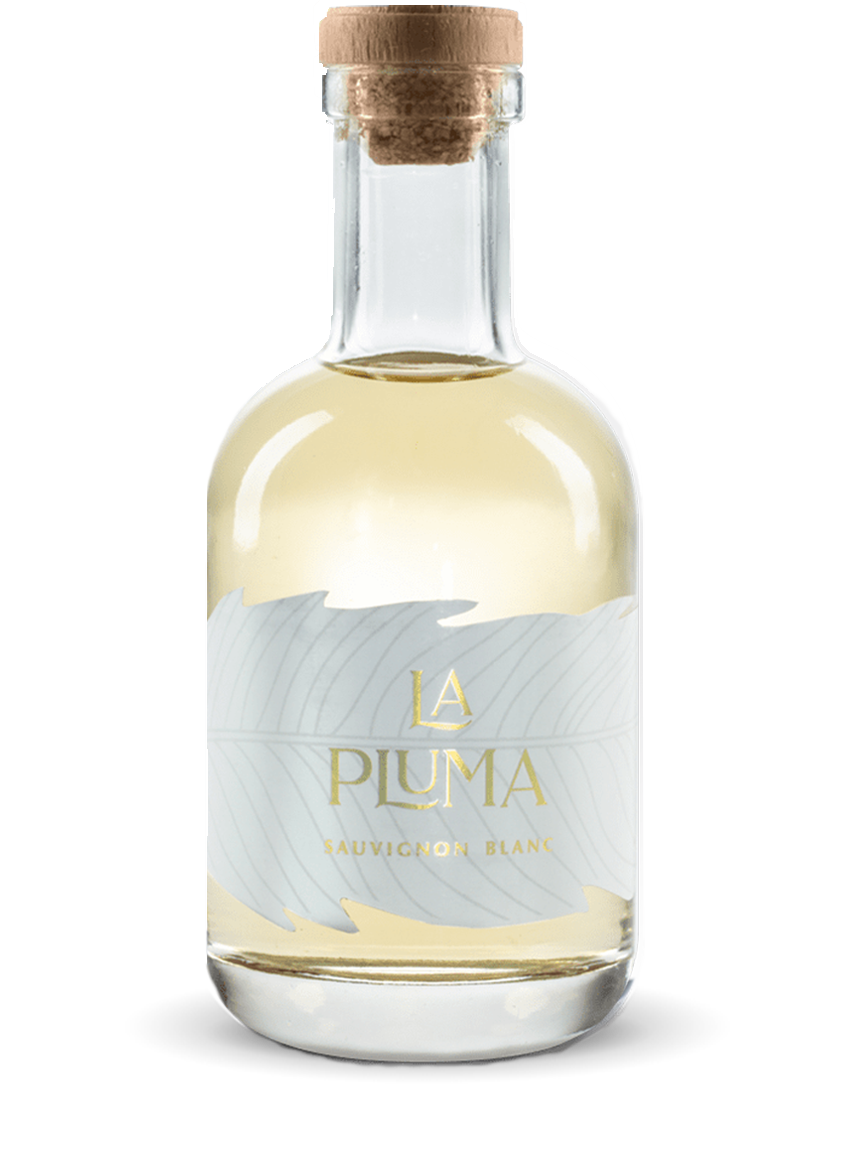 Tastes like baked apple and butterscotch. Food Pairing: Shellfish, brie...or Cheesecake Factory.  Vintage: 2020 / AVA: Central Coast, CA.
Buttery-smooth and a mouthwatering pale gold, chardonnay is the most popular wine in America—even counting reds. These sturdy grapes are grown along the picturesque crags and cliffs of California's Central Coast, resulting in a robust, comfortingly tropical pour. It's got smooth notes of dessert without being a "dessert wine."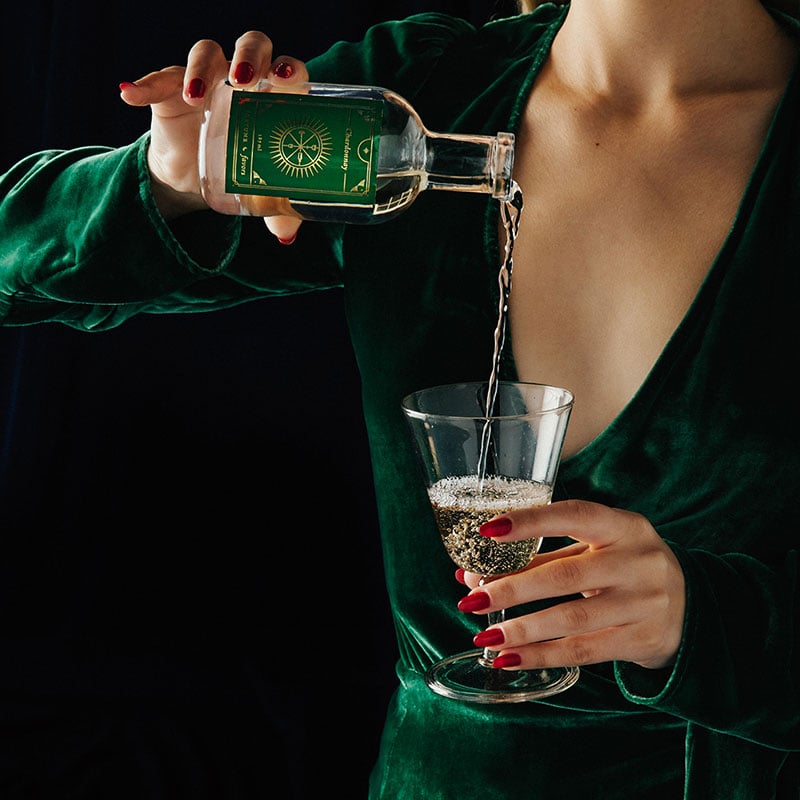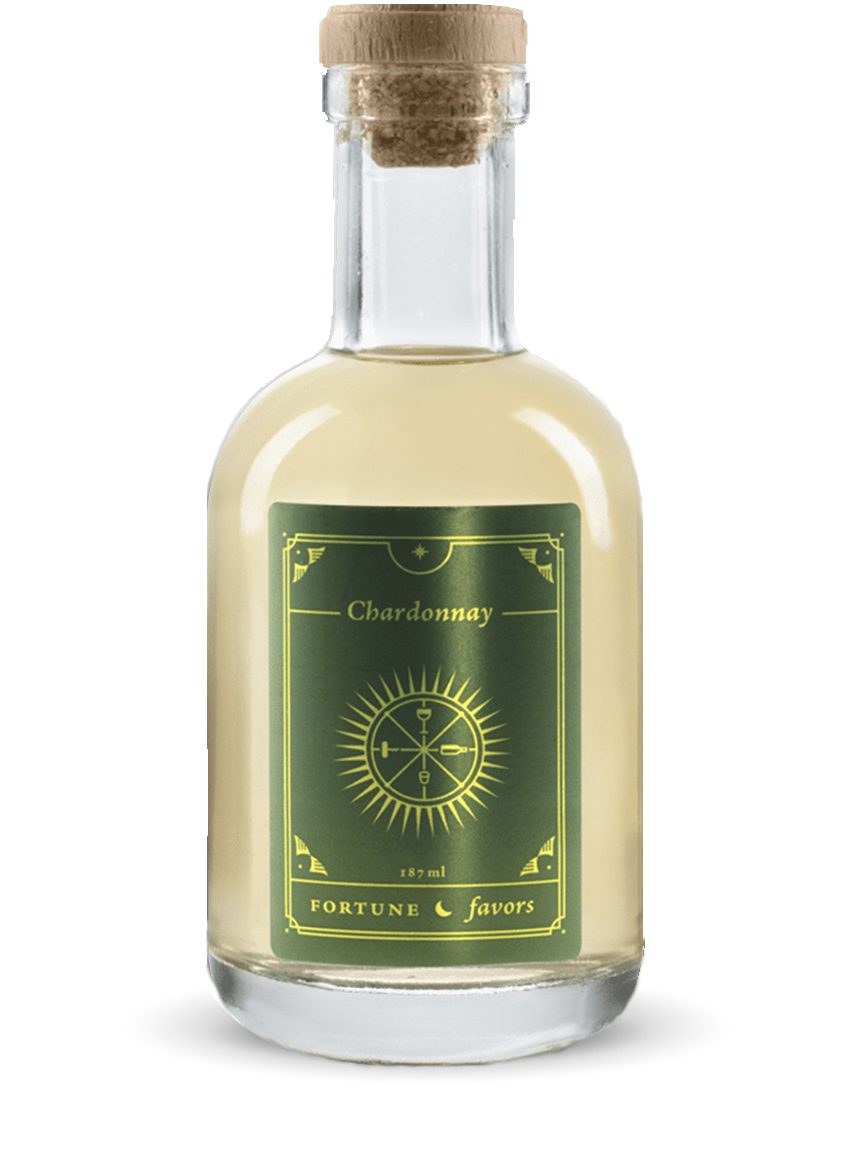 Tasting Notes: Zesty grapefruit, strawberry, raspberry. Food Pairing: Feta, BBQ'ed vegetable skewers...avocado toast.
We've heard la pluma is mightier than the sword, but a good rosé will win any contest you put it to. This cold-weather wine blends cab's mellowness with the jammy flavor of zinfandel. Combine that with full-bodied petite Sirah, and you're in for a fruity treat with just the right amount of acidity. Plus, it's pink enough to make Piglet jealous.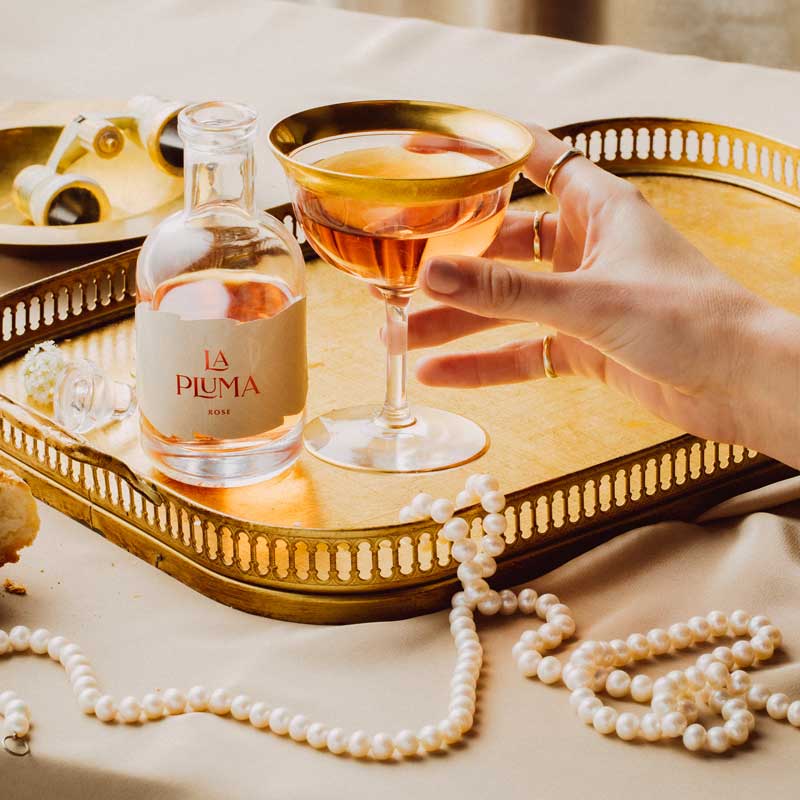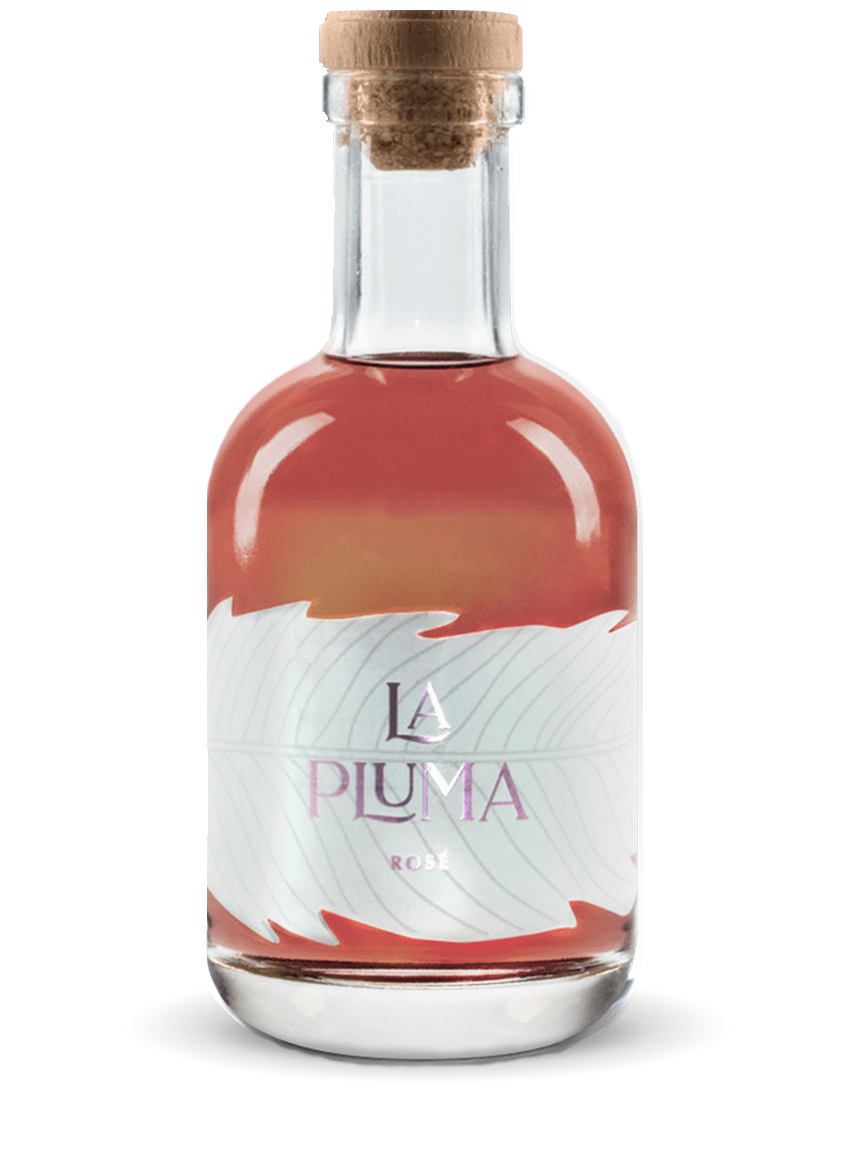 Bright red color, strawberry, grilled fig, plum, cherry on the palate.
Delectably fruity Grenache had a bit of a falling out with the wine community in the 90s, but, luckily, the thin-skinned grape is tough enough to take heat, wind, and bad vibes. Every sip of this vibrantly colored, brightly flavorful wine has us grateful it stuck around. Its lightness makes it perfect for chilling, and with notes of juicy strawberry and tart rhubarb, it's basically summer, bottled.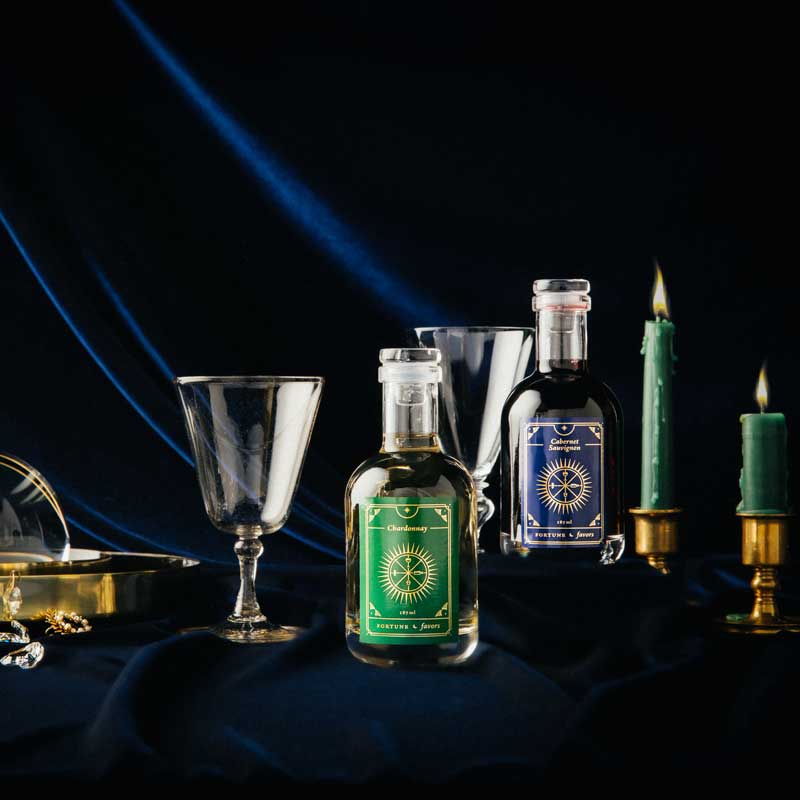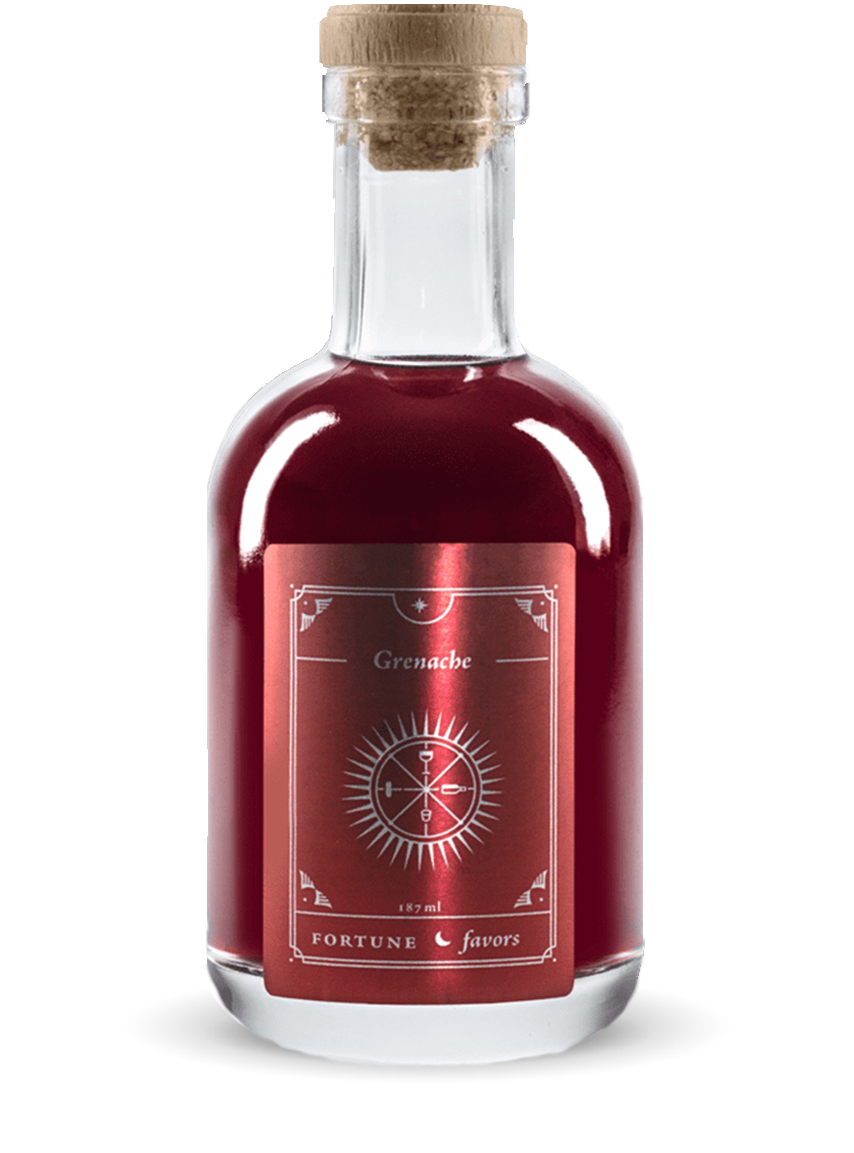 Tasting Notes: Cherry, wild mushroom, earthy flavors. Food Pairing: Chicken, brie...or ham & pineapple (you heard us) pizza. AVA: Russian River Valley, CA
August 18 may be Pinot Noir Day, but thankfully, we can enjoy this velvety-smooth, surprisingly bold bottle 365 days a year. Gorgeously dark in color and combining the flavors of sweet red fruit, tart cherry, and earthy mushroom, this pinot is classy, food-friendly, and worthy of a holiday itself.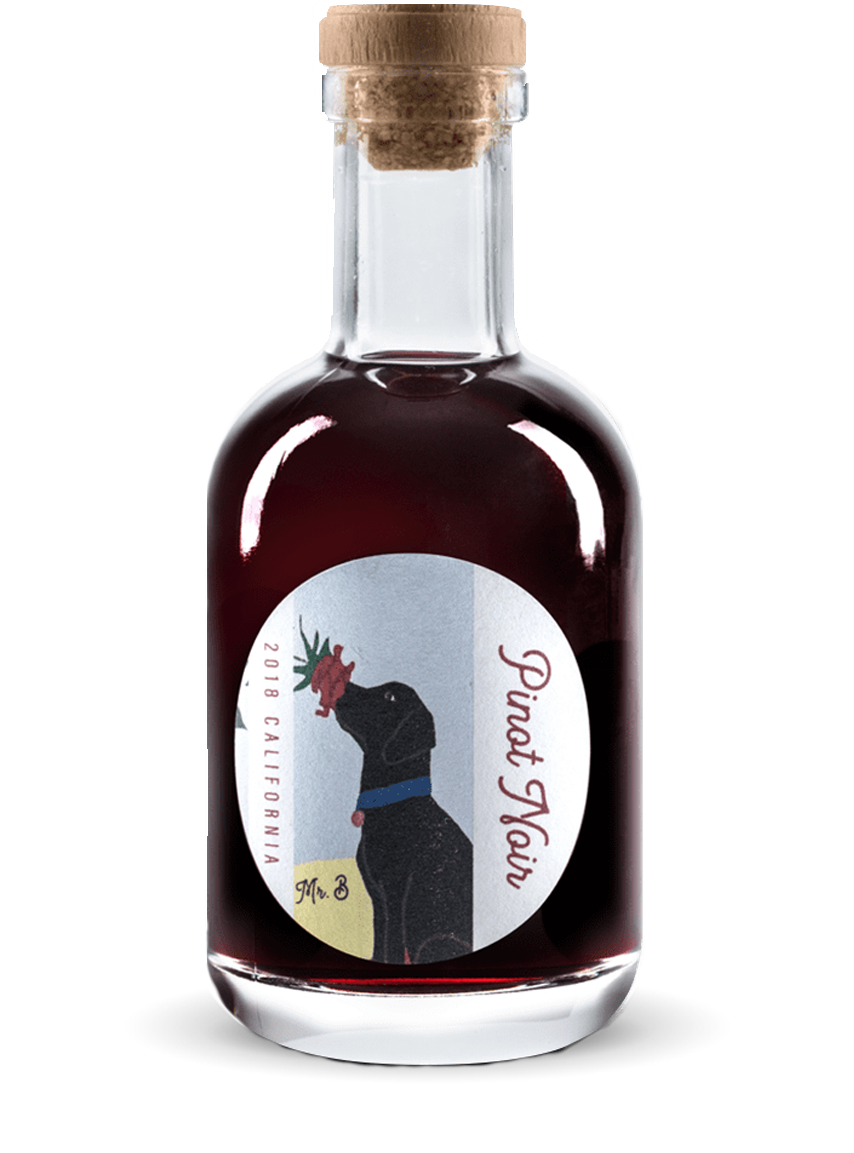 Tasting Notes: Bright, intense cherry aromas and flavors. Food Pairing: Higher-tannin foods that complement bright acidity like dark meats, mushrooms, and herb-heavy dishes, or a Five Guys burger. Vintage: 2019 / AVA: California.
The heat-tolerant barbera grape is less wild in the Piedmont Region of Italy, where it's an everyday drinking wine. It's found a home away from home in the warmest regions of California. This mood-agnostic barbera can be enjoyed from poolside to snowy cabin.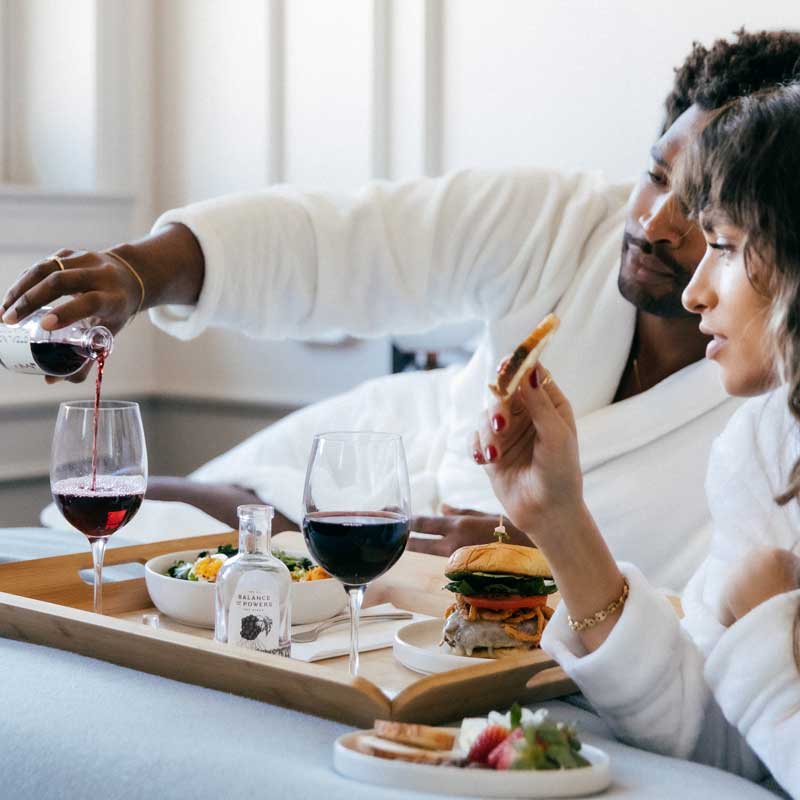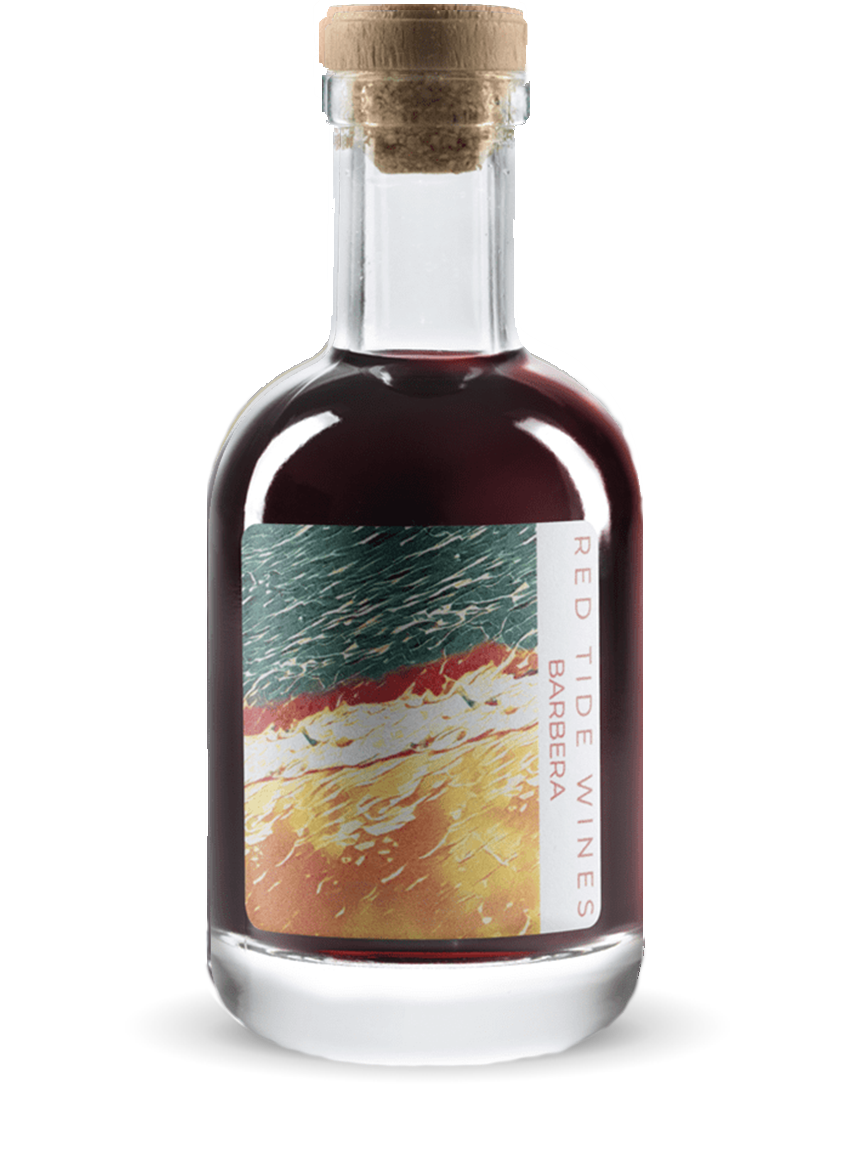 Tasting Notes: Blueberry, olive, dark chocolate. Food Pairing: Gouda, BBQ Pork...or BBQ Lays. Vintage: 2018 / AVA: Mendocino, CA
Syrah's centuries-long history is ripe with myth, but we know for sure that California syrah is more of a 90s baby. This chewy, inky wine comes with a kick of black pepper and a savory-then-fruity character all its own.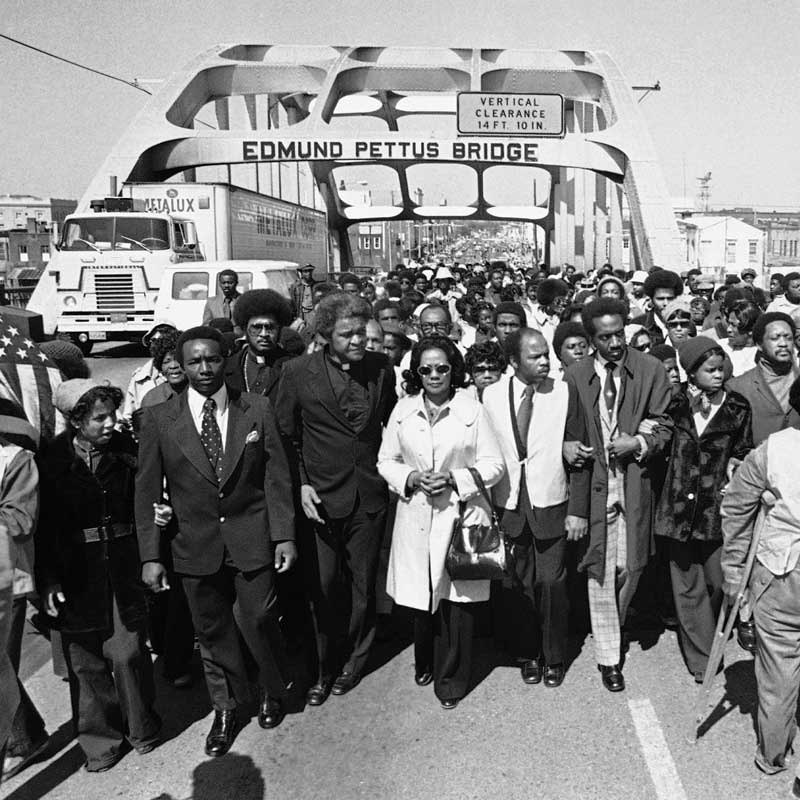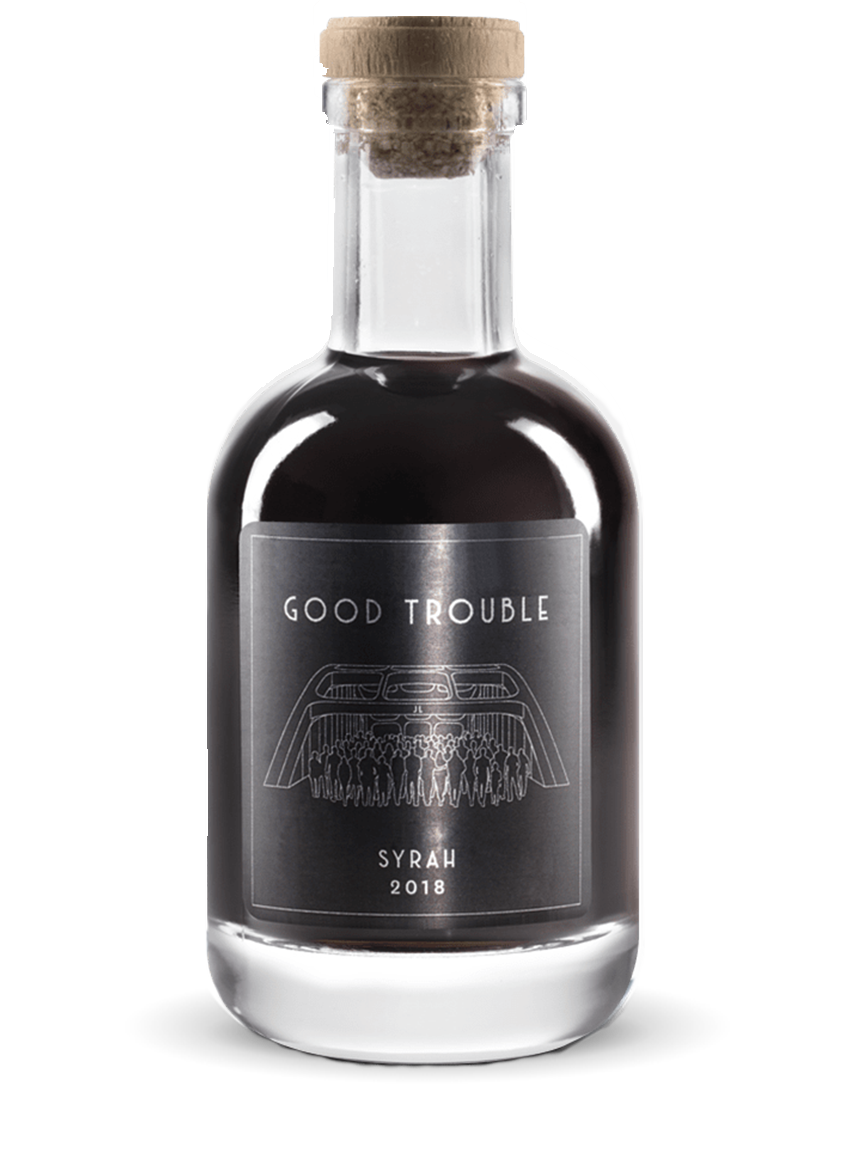 Tasting Notes: Blackberry, tobacco, vanilla. Food Pairing: Steak, gouda...Beyond Burger. Vintage: 2019 / AVA: North Coast, CA
Lush and vibrant, crisscrossed by the curve of the Russian River, Alexander Valley is home to some of California's best vineyards, and cabernet sauvignon (literally known as "the king of reds") is like royalty among them. Borrowing its baked and vanilla flavors from the oak it's aged in, this dark, aromatic cab is light-bodied and herbaceous, with a touch of berry.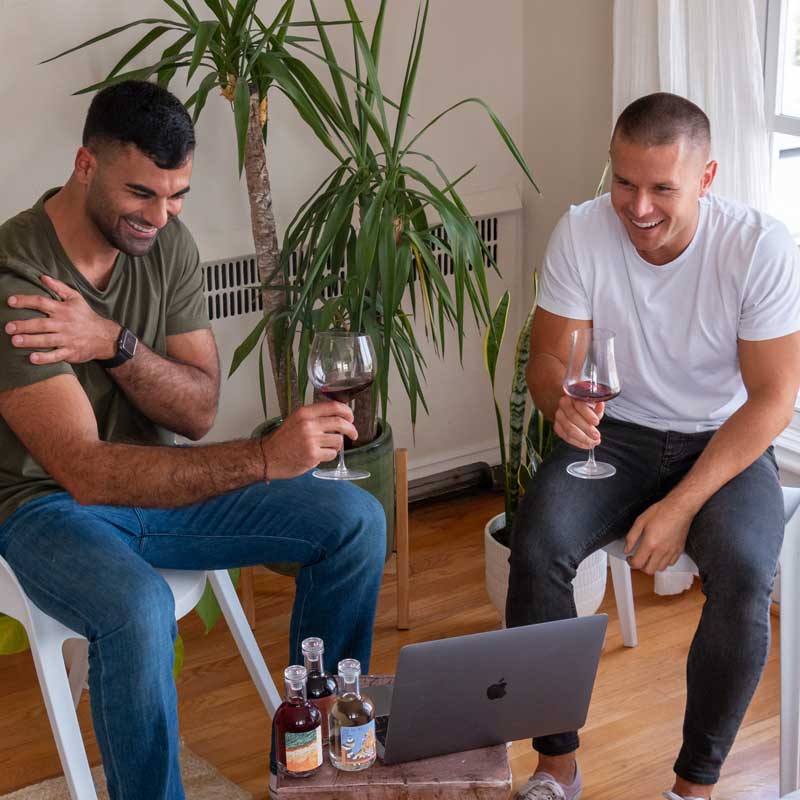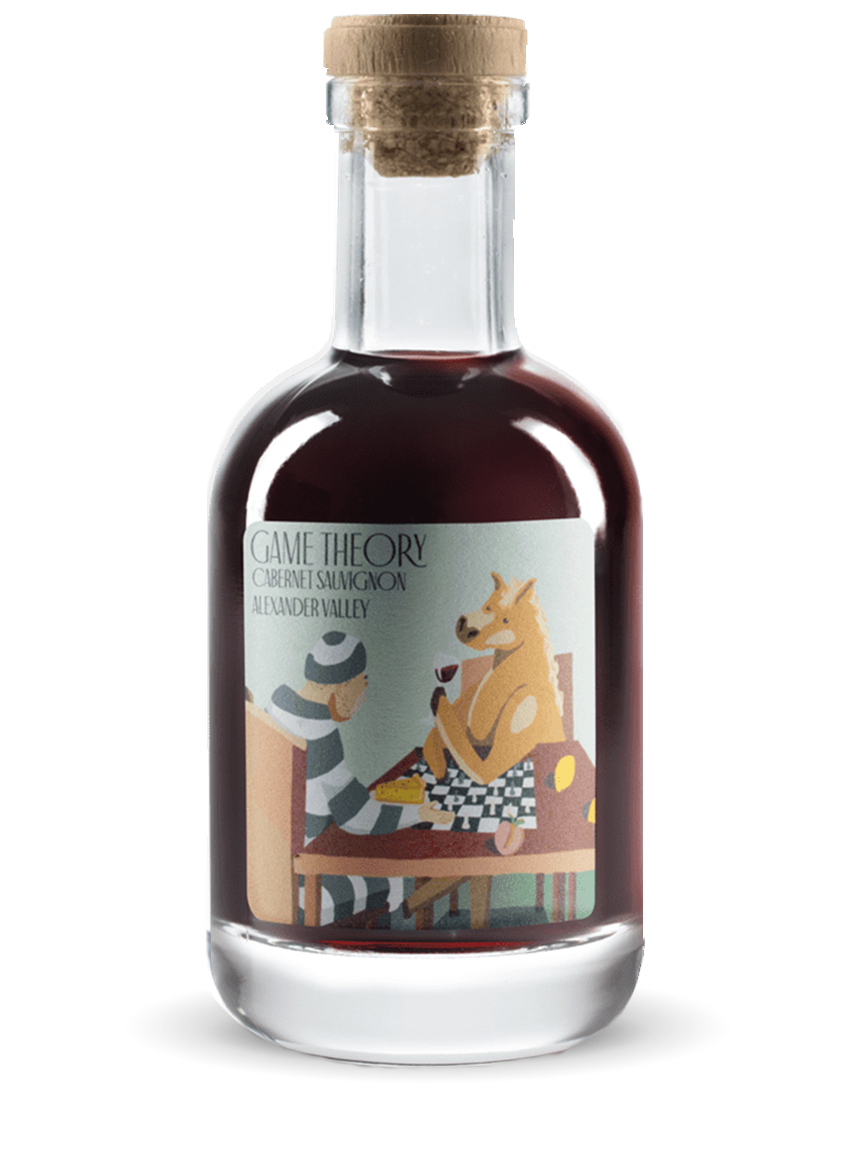 Sauvignon Blanc

Chardonnay

Rosé

Grenache

Pinot Noir

Barbera

Syrah

Cabernet Sauvignon