Celebrate Life's #MiniMoments
The Cascade Collection
You probably don't think about Washington when you think 'vineyards'. But just outside Seattle, tucked between mountain ranges, you'll find some of the most beautifully expressive wines in the country. That's why it's our nation's second-highest wine-producing state. Our Cascade Wines flight brings you a half dozen mini wines representing the best Washington has to offer.
Included in the Collection
The 6 most approachable and food-friendly wines you'll ever meet, from a light and refreshing pinot gris to a velvety cabernet franc. Every glass offers a chance to celebrate life's simple pleasures and #minimoments. Whether that's experiencing a new place or connecting with new people.
Reviews
Easy to use
I used In Good Taste for a virtual wine tasting event with my coworkers. It was easy to put together a group order and shipping was incredibly fast.
Christmas gift
I bought these darling little bottles for Christmas gifts for my boys girlfriends. They love wine and what a perfect gift. They are so cute and they'll have fun having their own little tasting party... who knows, maybe they'll even invite me.
Cascade Wines of Washington
Cascade Wines of Washington
Cascade Wines of Washington
Cascade Wines of Washington
It's okay to play favorites.
The Unassuming Gem

Pinot Gris
Tastes Like: Aromas of white flowers. Peach, mandarin orange, pear, and Fuji apple on the palate.  Vintage / AVA: Columbia Valley, WA
An alter-ego to pinot noir, and a cousin to France's more famous chardonnay, pinot gris doesn't let things like "status" go to its head. Subtle, down-to-earth, and totally trustworthy when you want a deliciously light pour, this mini holds notes of peach and citrus, combined with a robust body and enticing acidity sure to give your tastebuds goosebumps.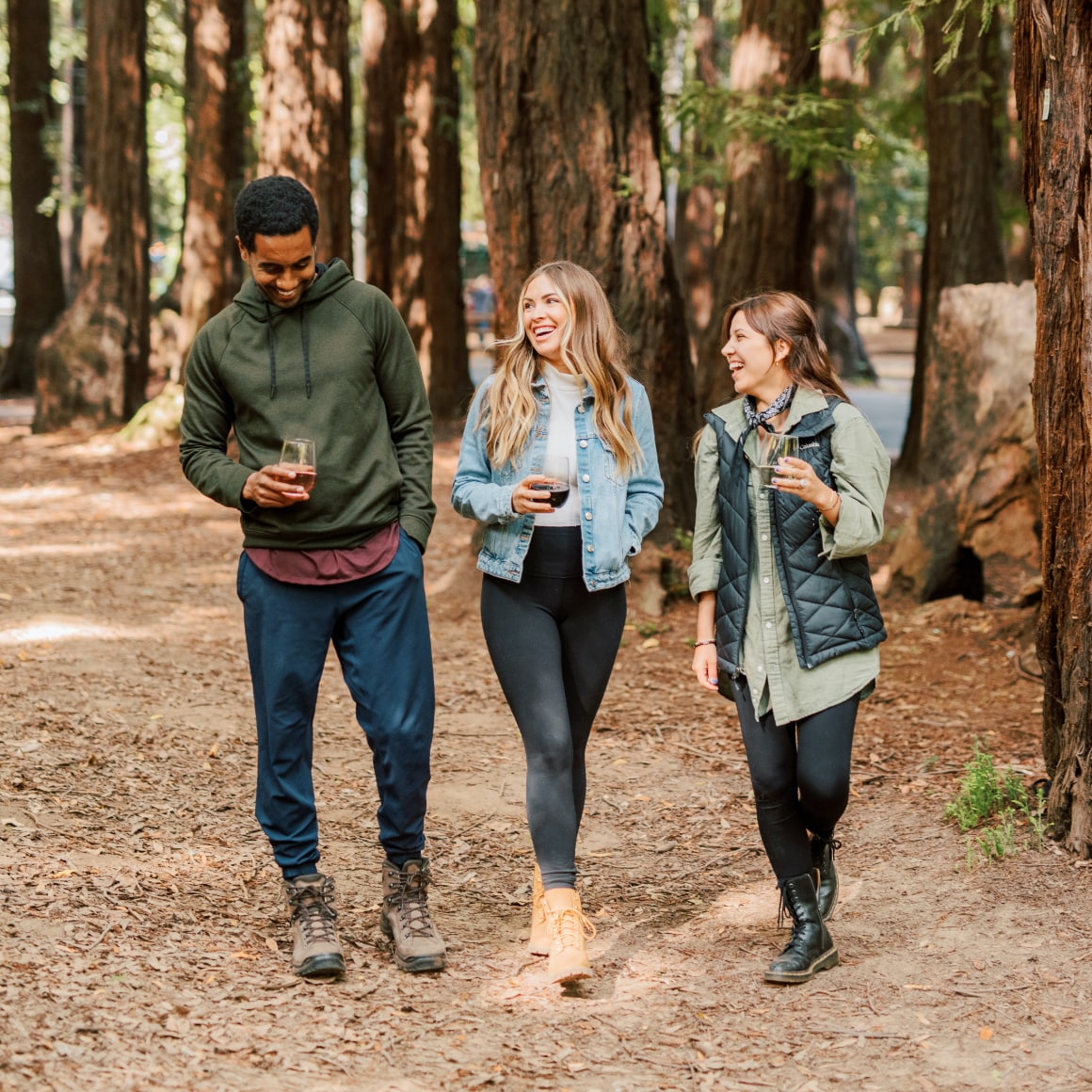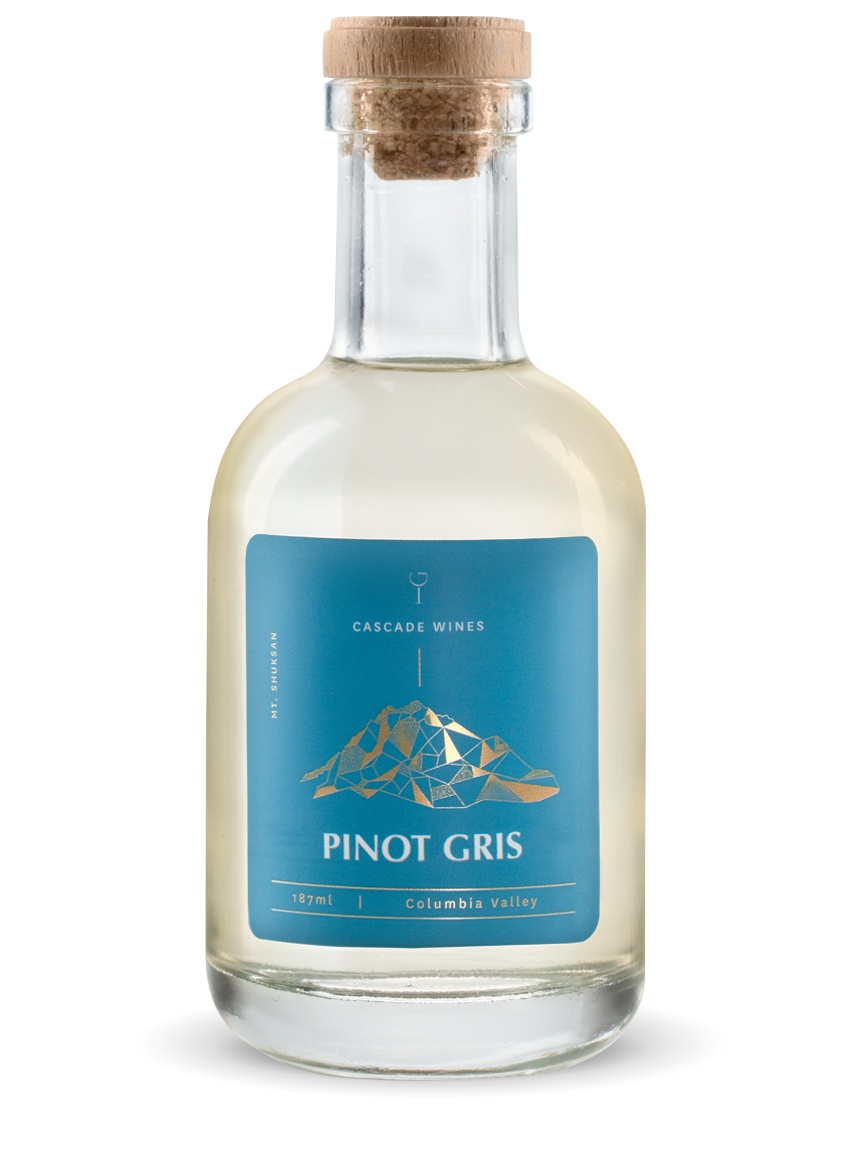 The Entrepreneur

Riesling
Tastes Like: Aromas of honeysuckle and fresh flowers. Palate of tangerine, peach, apricot, and honeydew melon. Vintage / AVA: Columbia Valley, WA
Though its quenching acidity notes more peach than apple, riesling is pretty much the Steve Jobs of Washington wines. Perfecting its balanced finish and barely-sweet versatility since the sixties, this tangy yet sophisticated wine was first on the scene and still holds its place as the fresh and flowery front of the pack.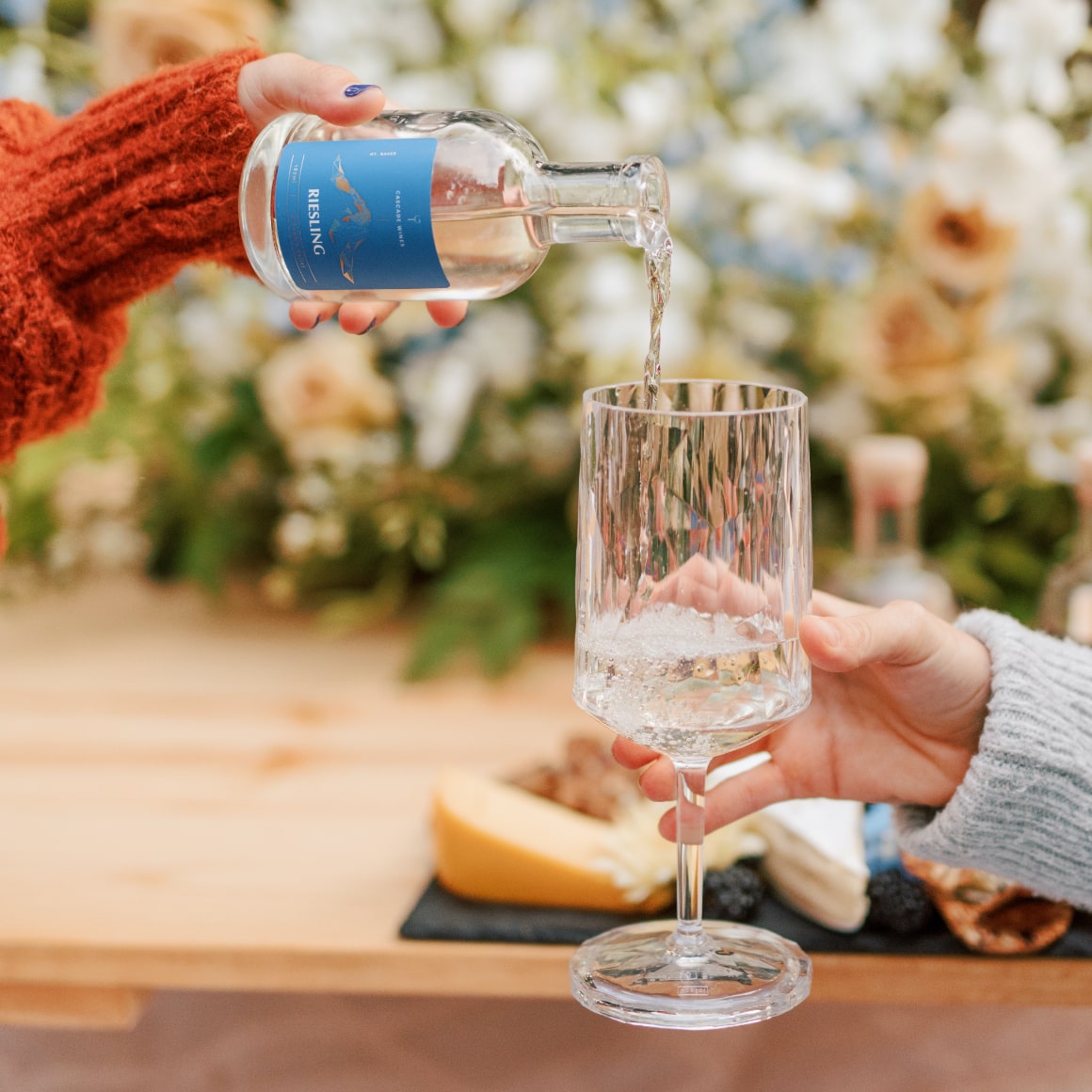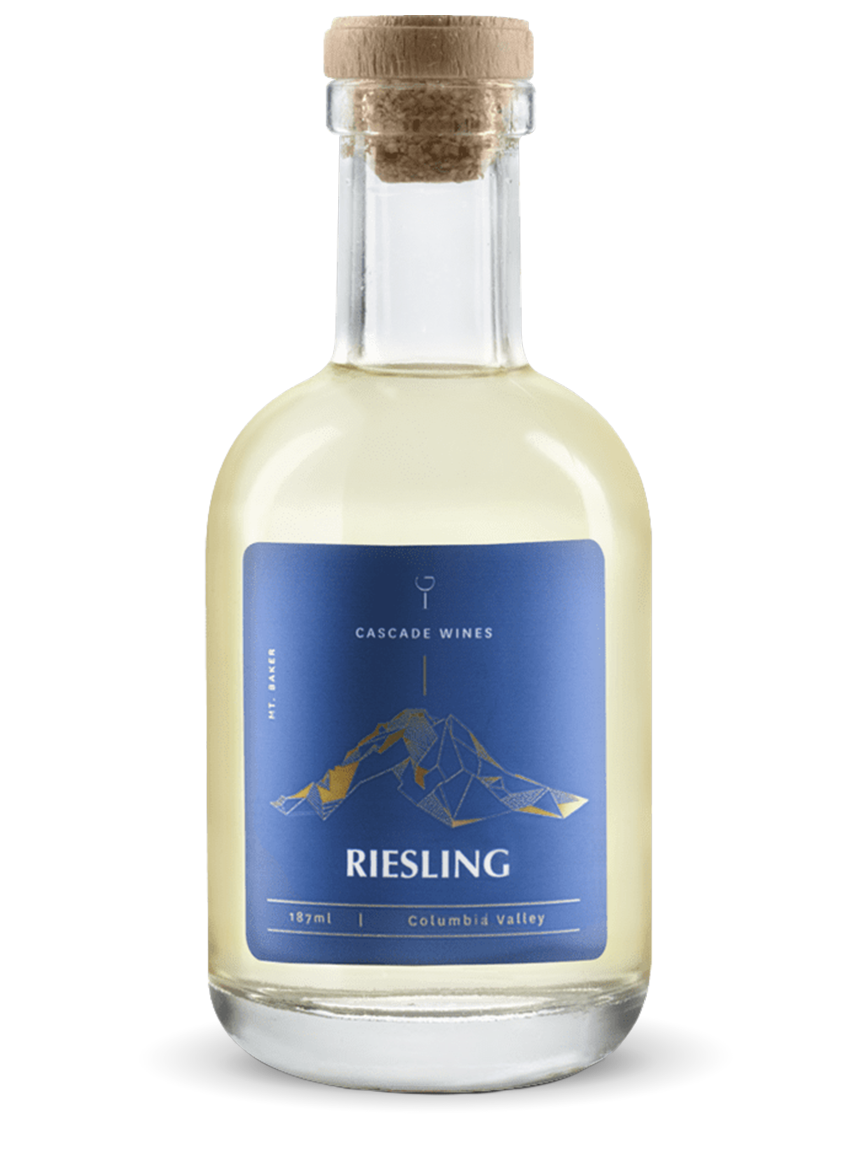 Tastes Like: Aromas of ripe, fresh-picked fruit. Palate of strawberry, cantaloupe, and rose hips. Vintage / AVA: Columbia Valley, WA
It was only recently that rosé started flowing for beach trips, bridal showers, and Taylor Swift songs, but this refreshingly fruity, playfully pink wine has been waiting in the wings since before we invented the alphabet. Borrowing its eye-catching color from a shortened maceration process (basically, when grape juice and skins get up close and personal), this crisp, acidic showstopper is anything but amateur.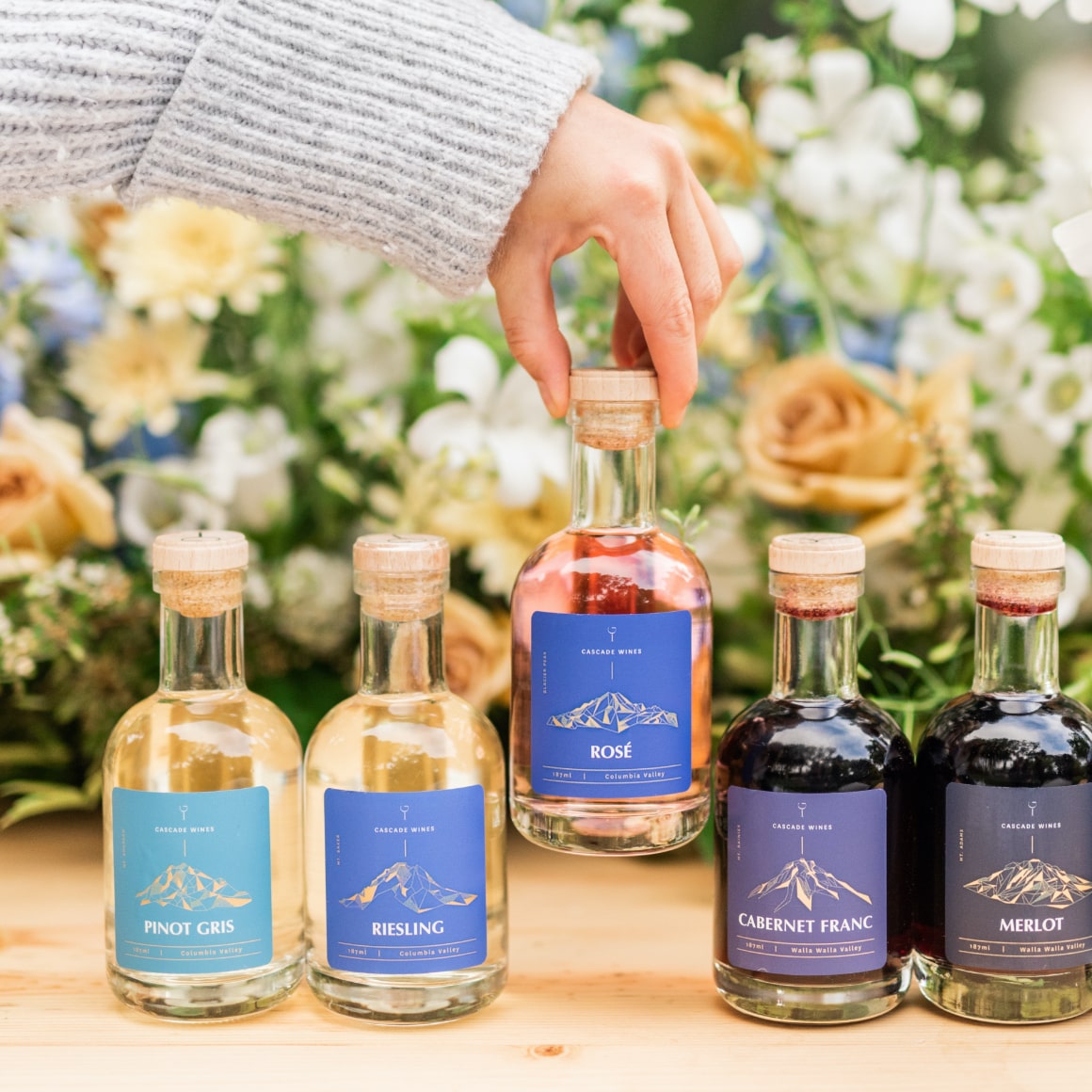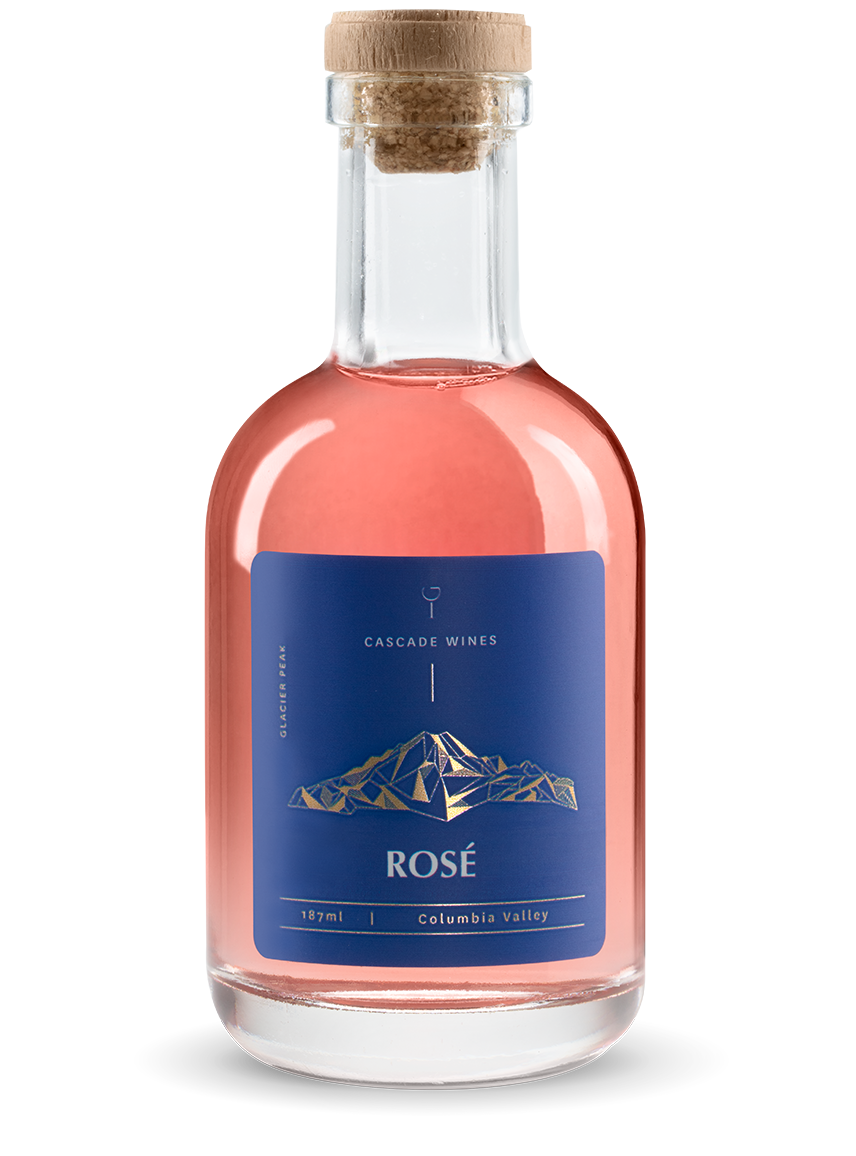 The Underdog

Cabernet Franc
Tastes Like: Aromas of herbs and green peppercorn. Black cherry, currant, and dark fruit on the palate. Vintage / AVA: Walla Walla Valley, WA
Used to lend some lightness to its astringent yet popular older sibling, for years, cabernet franc was just cabernet sauvignon's kid sister in status-driven Bordeaux. Now, aromatic, darkly fruity cab franc has come into her own as a varietal wine. She's an independent, edgy mini, perfect for those who reject the old-guard aristocracy—and the status quo.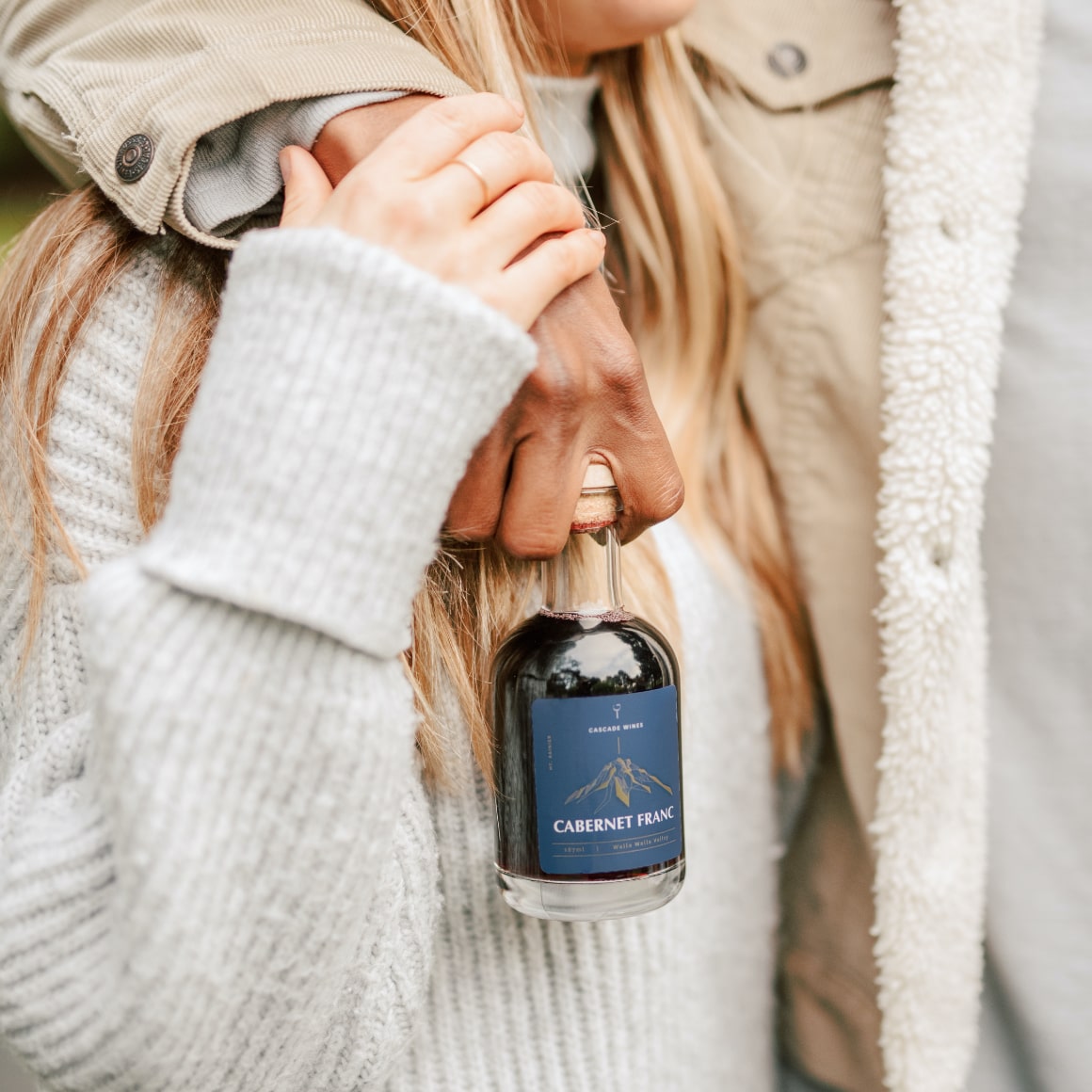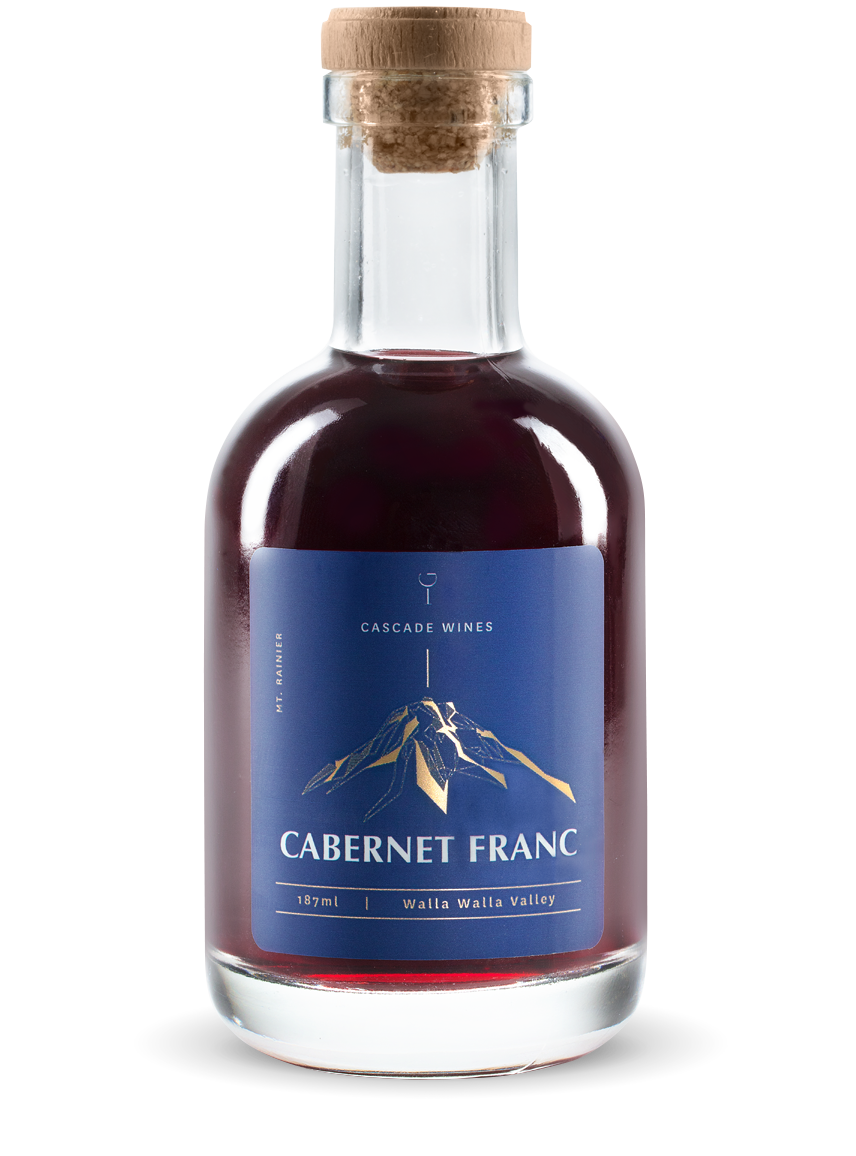 Tastes Like: Aromas of American oak, vanilla, and spice. Palate of black cherry and plum. Vintage / AVA: Walla Walla Valley, WA
Famous for getting along with just about anyone—and any food—merlot is an "aristocratic" Bordeaux variety, often blended with high-tannin cabernet sauvignon and cabernet franc. Bold and full-bodied, with a little bit of spice, this approachable mini is everyone's new best friend.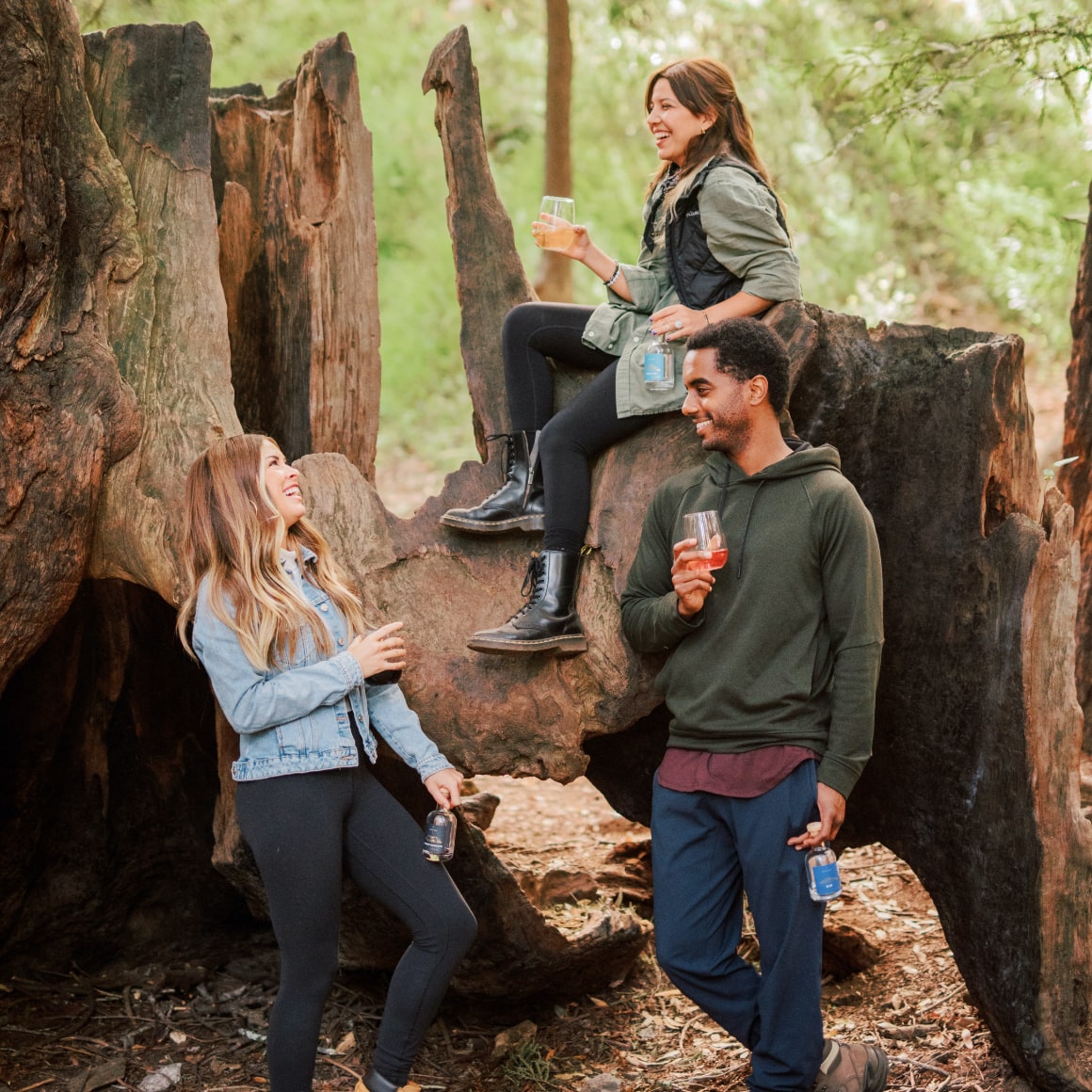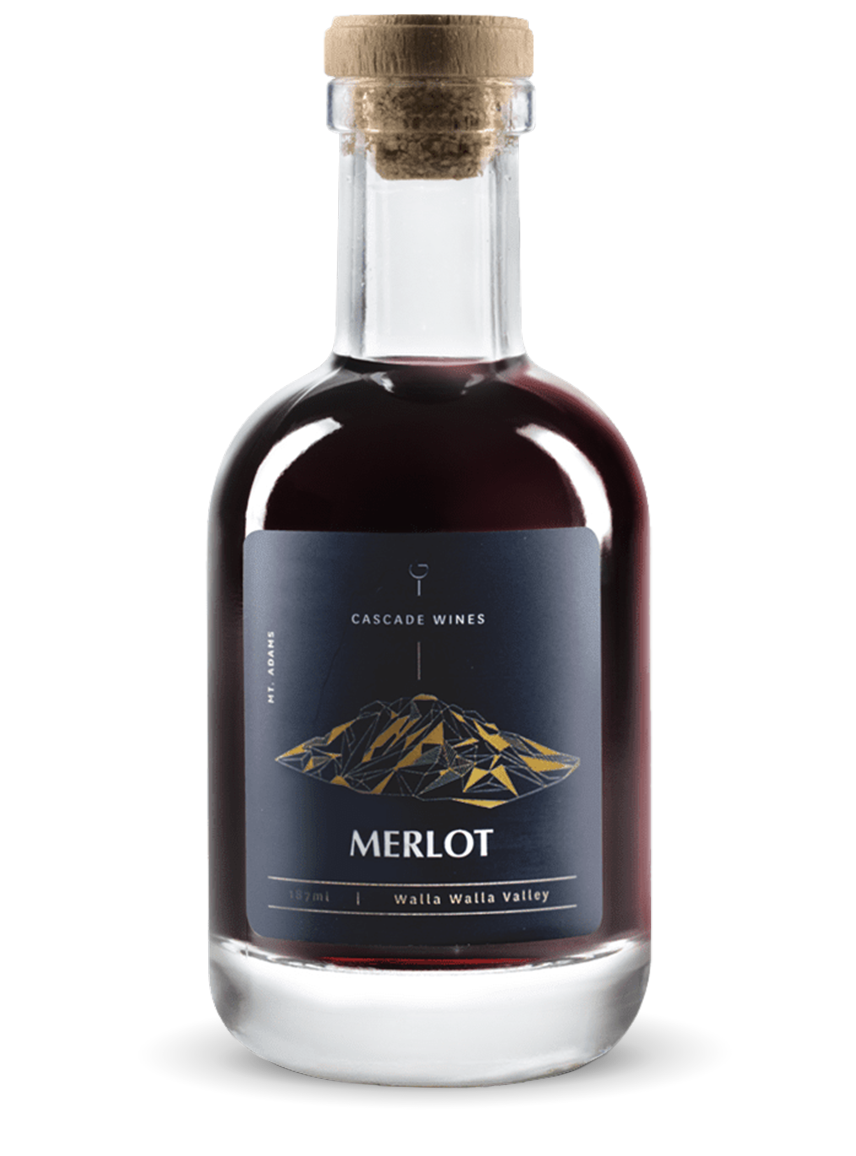 The Hopeless Romantic

Cabernet Sauvignon
Tastes Like: Aromas of French oak. Black currant and blackberry on the palate.  Vintage / AVA: Columbia Valley, WA
Once upon a time, in seventh-century France, a cabernet franc and a sauvignon blanc fell hard for each other. Luckily for us, their story of star-crossed love has a happy—and fruity, textured, and savory—ending. Rich, ripe, and lustrous, each sip hangs onto that drama, with a subtle spiciness gained from its French oak aging process. We especially love its long finish (because true love never ends).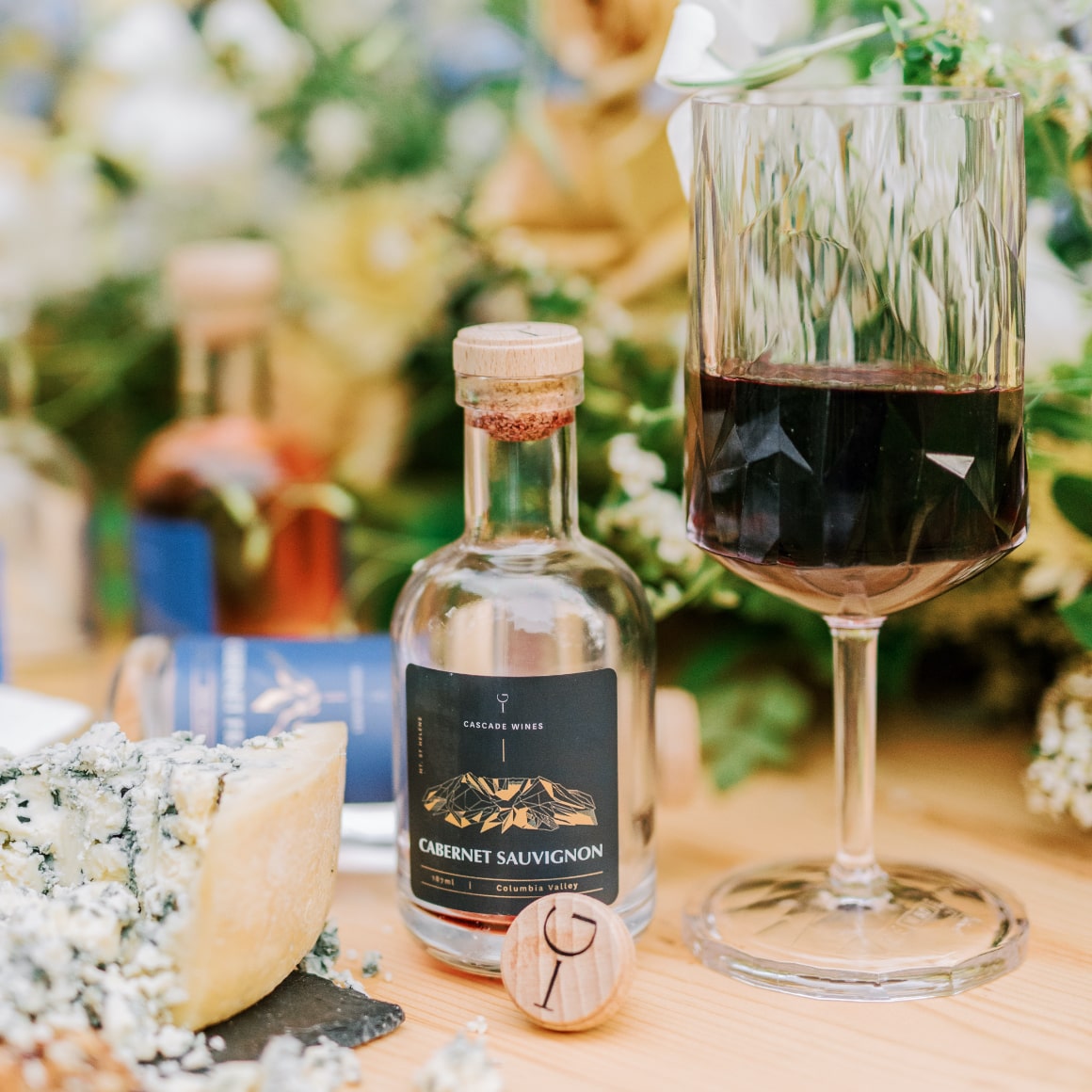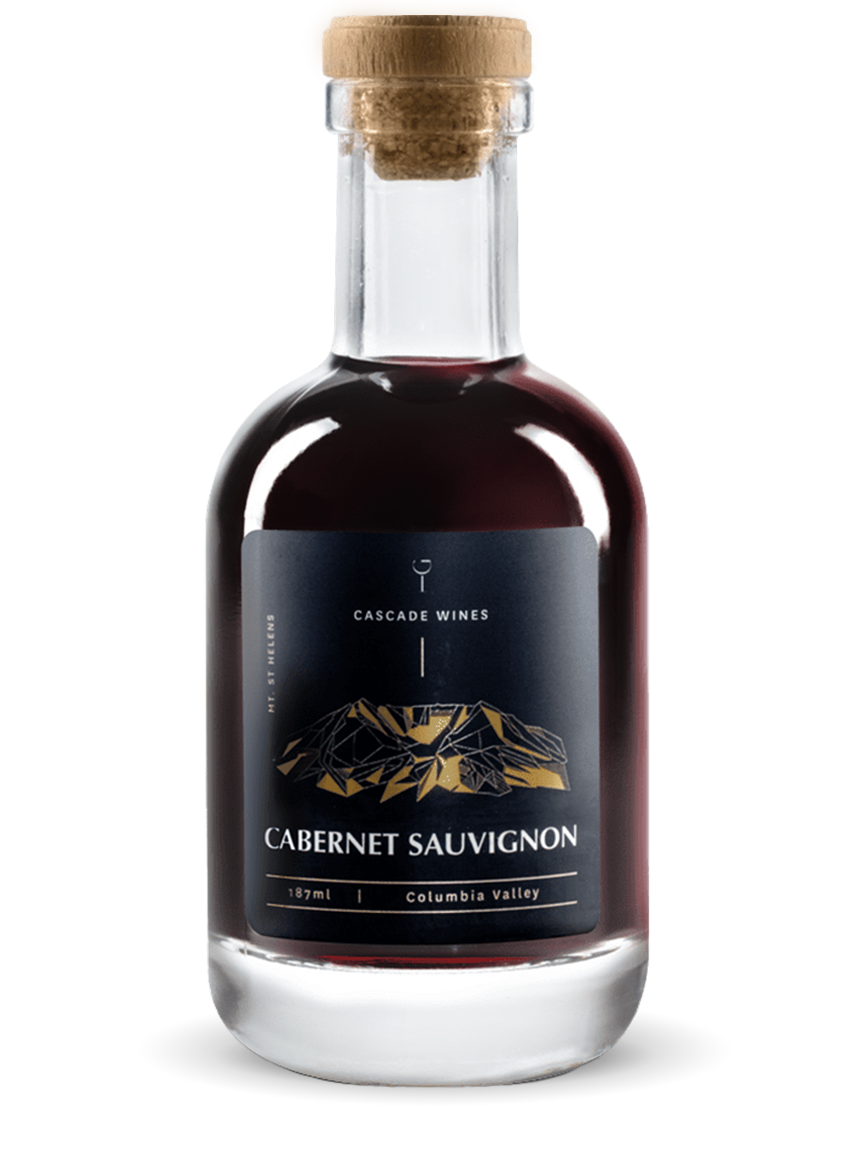 Pinot Gris

Riesling

Rosé

Cabernet Franc

Merlot

Cabernet Sauvignon
Virtual Tasting
Find New Favorites
Turn your living room into a tasting room with our Virtual Wine Tastings. Sip back and relax from the comfort of your home while our wine expert guides your friends, family, group date, or coworkers through a fun interactive tasting.