Welcome to the Passport Collection, a pourable postcard of our favorite wines from Italy and France. Each bottle is crafted by the masters and steeped in tradition, flavor, and Old World charm. These eight unique wines feature a sumptuous Bordeaux, a Sicilian Nerello Cappuccio, a refreshing Provence rosé, and a crisp, cool Italian Verdicchio. Whether you dream of sunbathing on the Seine or vespa-riding in Verona, this mixer is sure to cure your wanderlust. Bon voyage!
Reviews
Exceeded my expectations
I am obsessed and so happy with this wine! The bottles are adorable and the perfect size for me! Sometimes you only want a glass or 3 and this is perfect for that. And the best part is - the wine is delicious! Even wines that I wouldn't usually pick for myself I am loving! (I do wish the stoppers were glass as well because I think that would improve the reusability of the bottles but it's ok.) I want to get all of my wine from In Good Taste.
Impressed
We wanted to host a virtual wine tasting party with family, but how when they all have very different tastes? I'm so glad we found the Passport Collection on In Good Taste! Not only is there literally a wine for all tastes, but they also provide instructions on wine tasting and details about each wine in the collection!
Delightful!
Such a fun wine experience from the comfort of our couch! We loved reading about the different wines and appreciated the tasting notes. Made us want to travel and enjoy vineyards again!
Impressed
We wanted to host a virtual wine tasting party with family, but how when they all have very different tastes! I'm so glad we found the Passport Collection on In Good Taste! Not only is there literally a wine for all tastes, but they also provide instructions on wine tasting and details about each wine in the collection!
Good
It was a gift they liked the French wine
It's okay to play favorites.
Côtes du Rhône AOC White Blend
Tasting Notes: Floral, Apricot, Honey
Style: Tangy & Savory
Food Pairing: Hoisin-Glazed Salmon, Grilled Summer Veggies
One of our first European wines, this blend of real-deal, rare-for-the-region grapes is packed with French-perfected, floral flavor and Old World charm. Hailing from Avignon, known for its medieval-era wall, this tangy white pairs weighty marsanne with aromatic roussane, adding in golden grenache blanc for softness. This result? A crisp, savory sip that'll make you swear you're reclining by the Rhône.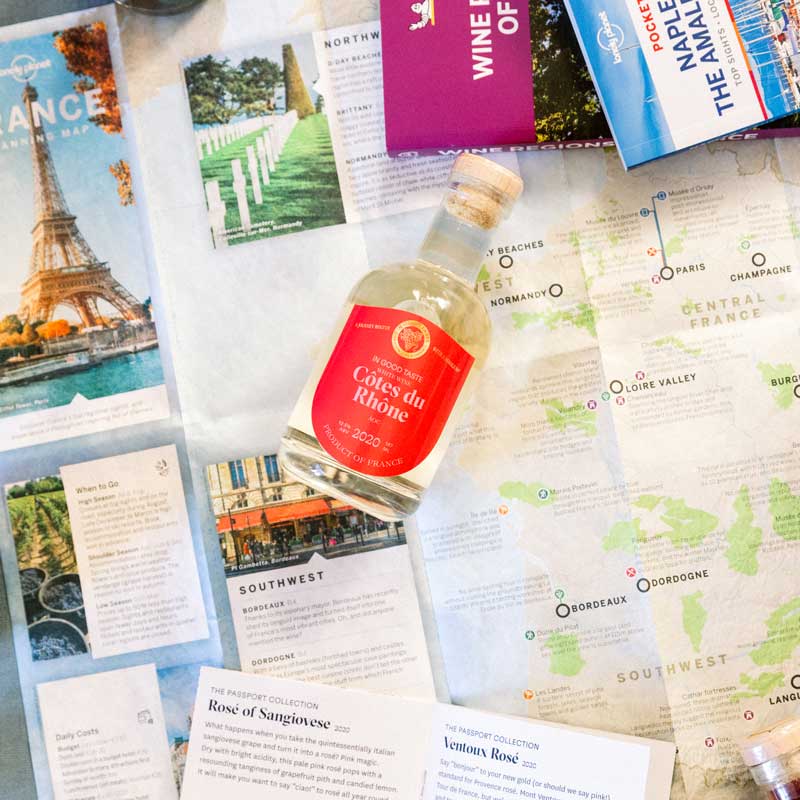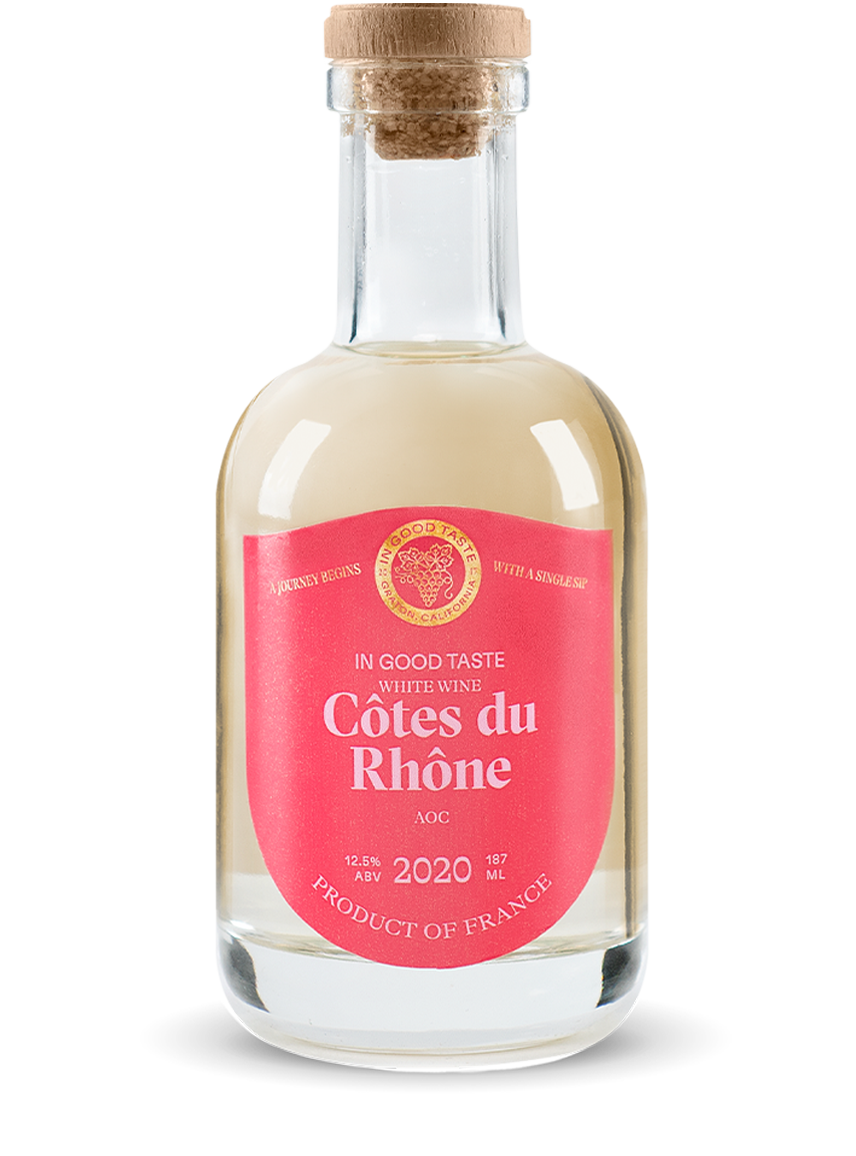 Tasting Notes: floral, citrus, melon, passionfruit, slight bitterness
Style: Floral + Lean
Food Pairing: Brie Fondue
Ventoux Mountain may host the Tour de France, but we've got our eye on its lower slopes, and their tour de force of exquisite rosé. This high-altitude showstopper is our first French wine, and we've saved the best for, well, first. Despite its delicate, pale pink color, each sip is lush with flavor, from tropical passionfruit to zesty citrus to refreshing melon. Once you say bonjour to this mini bottle, you won't want to say au revoir.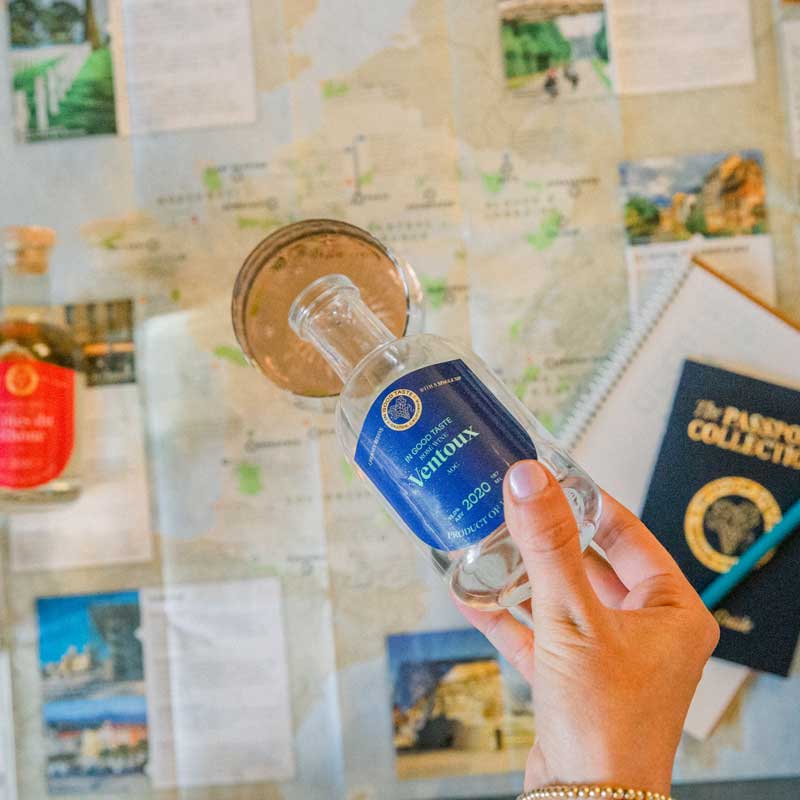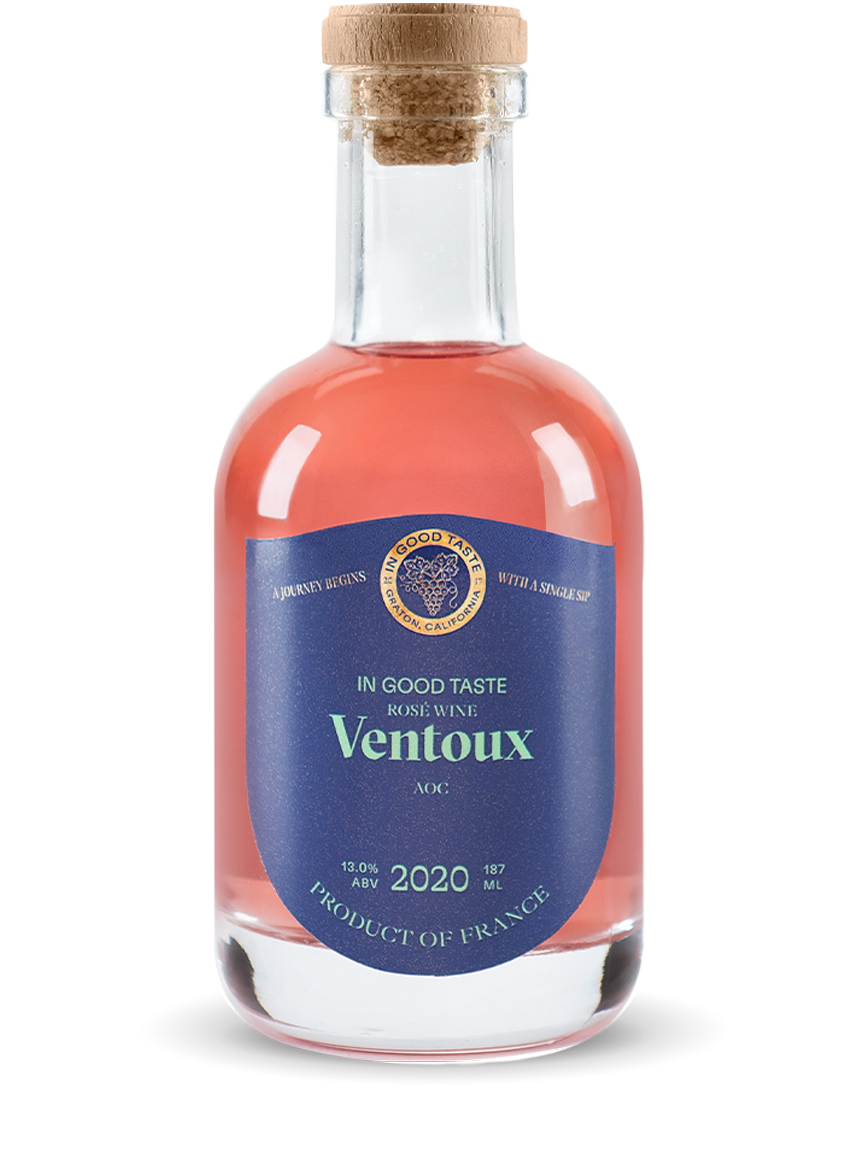 Verdicchio dei Castelli di Jesi
Tasting Notes: lemon, crisp apples, fennel, green almond
Regional Fact: Verdicchio is the crown jewel of grapes in the Marche region. The Adriatic Sea and nearby Cesano and Esino Rivers create the idyllic growing environment for this small but mighty white grape.
Food Pairing: Marcona almonds, seafood risotto, prosciutto
One of our favorite - and more unusual - unoaked Italian whites. Along the Adriatic Sea, the Marche region where these grapes grew produces refreshing, acidic whites with trademark salinity. Verdicchio means "little green one," and while the first sip might scream "fresh apples," you'll likely find a round, bitter aftertaste of green almond or herbs.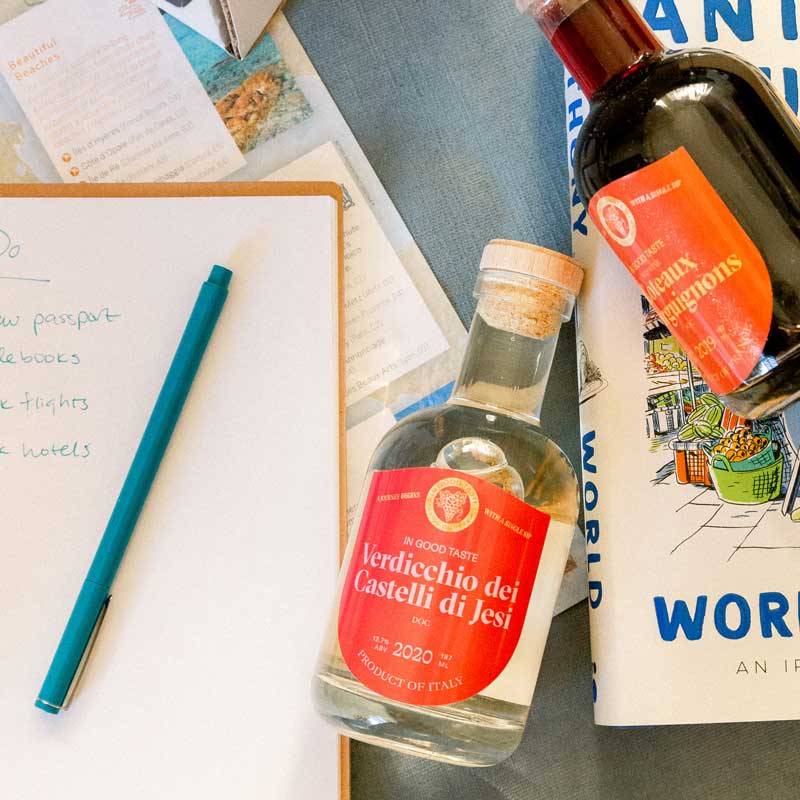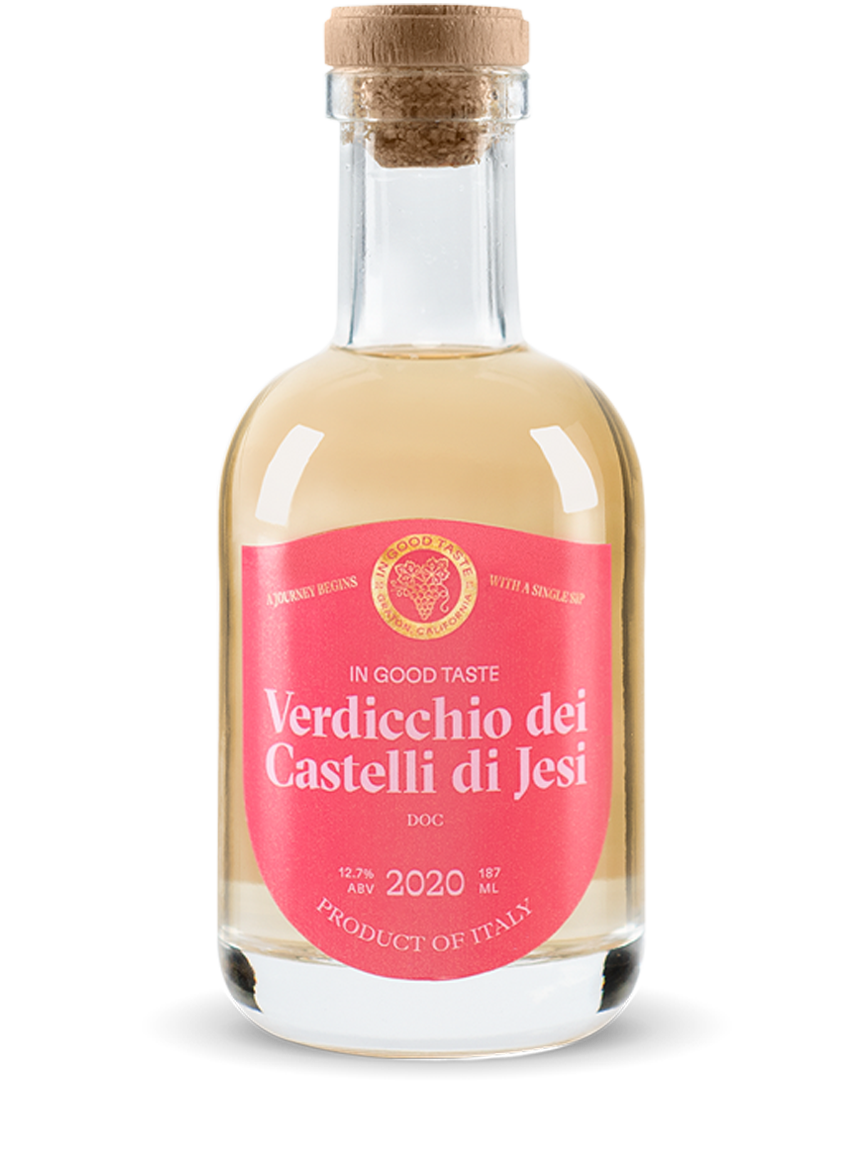 Tasting Notes: grapefruit pith, wild berries, watermelon
Regional Fact: Although white grapes dominate the region, the Marche is also home to both Sangiovese and Montepulciano grapes. Sangiovese is the dominant grape in the beloved wines of Chianti. Food Pairing: Burrata with olive oil and stone fruits

What happens when you take the quintessentially Italian sangiovese grape and turn it into a rosé? Pink magic. Dry with bright acidity, this pale pink rosé pops with a resounding tanginess of grapefruit pith and candied lemon. Open it alongside an appetizer of burrata with olive oil. It will make you want to say "ciao!" to rosé all year round.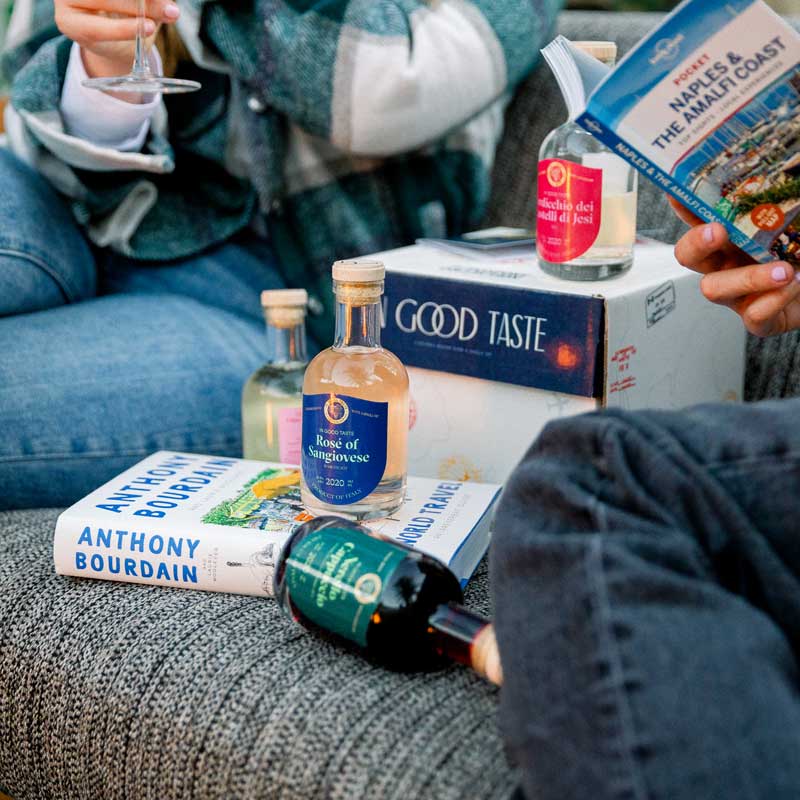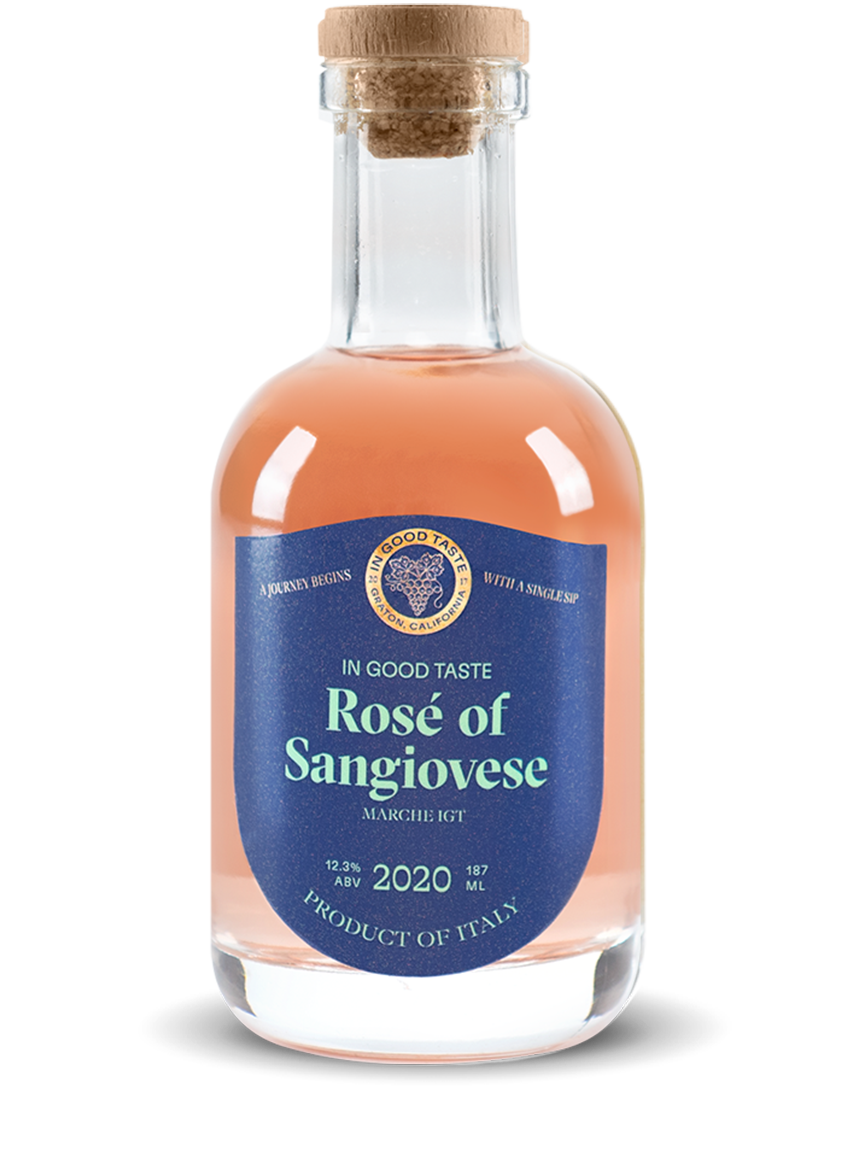 Tasting Notes: earth, herbal, juicy blueberry, strawberry
Regional Fact: A mosaic of soils including limestone, clay, and marl make Burgundy an exceptionally unique and terroir-driven wine region. No two bottles are exactly alike. Food Pairing: Salami, dried figs, assorted nuts.

Wine tip: always say "oui" to indulging in Burgundian reds. The fairly small French region of Burgundy produces sensual and complex pinot noirs known worldwide for their quality (and hefty price tag!). Ours is a blend of pinot noir and Gamay, light in body but full in flavor. Lose yourself in its juicy blueberry and herbal notes. Oven-toast some brie to go with it, and you've got a meal fit for a queen!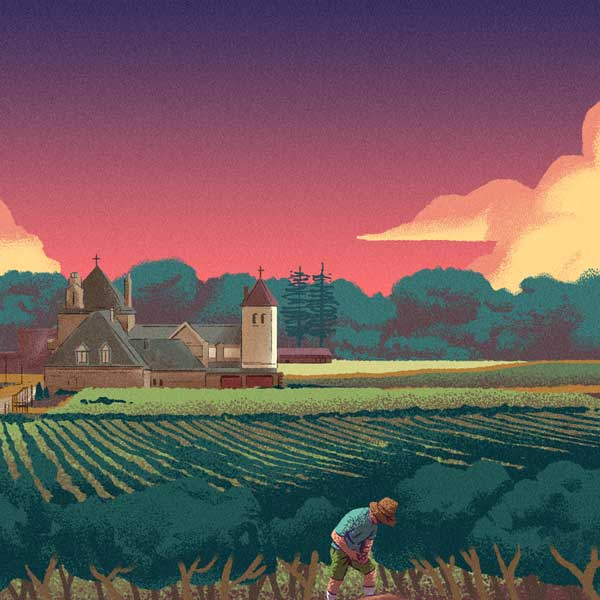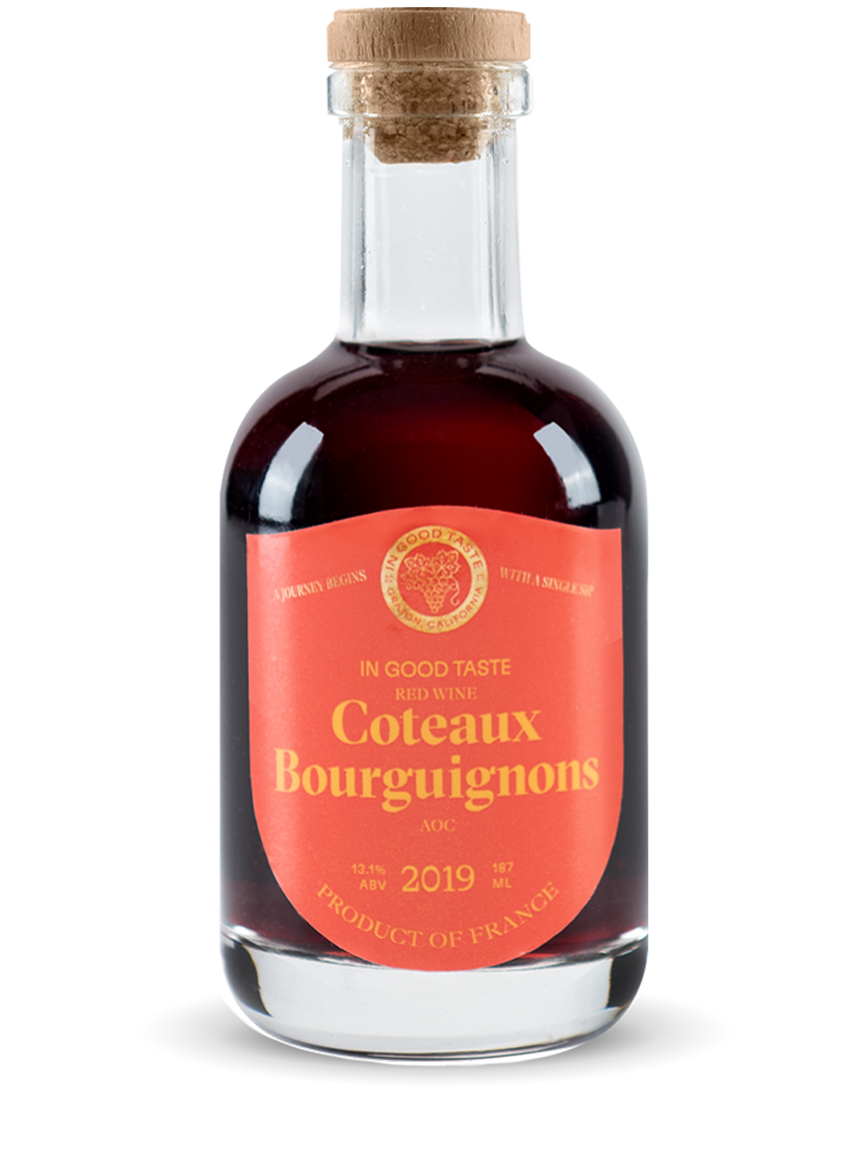 Tasting Notes: wild berries, black cherry, slightly herbal Regional Fact: Sicily is one of Italy's largest wine regions by both acreage and volume. Its more interesting wines grow on the slopes of the active stratovolcano, Mount Etna. Food Pairing: Margherita pizza, Baked arancini.
Sicilian wines dazzle alongside the island's colorful beaches, Mediterranean climate, and active volcano. Grown in the cooler high hills of the Sicilian hinterland, this nerello cappuccio is no exception. A gem ruby color with wild berry aromas and earthy flavors, this distinctly Sicilian wine will surprise you with its delicate tannins. Let it shine next to a margherita pizza or baked arancini.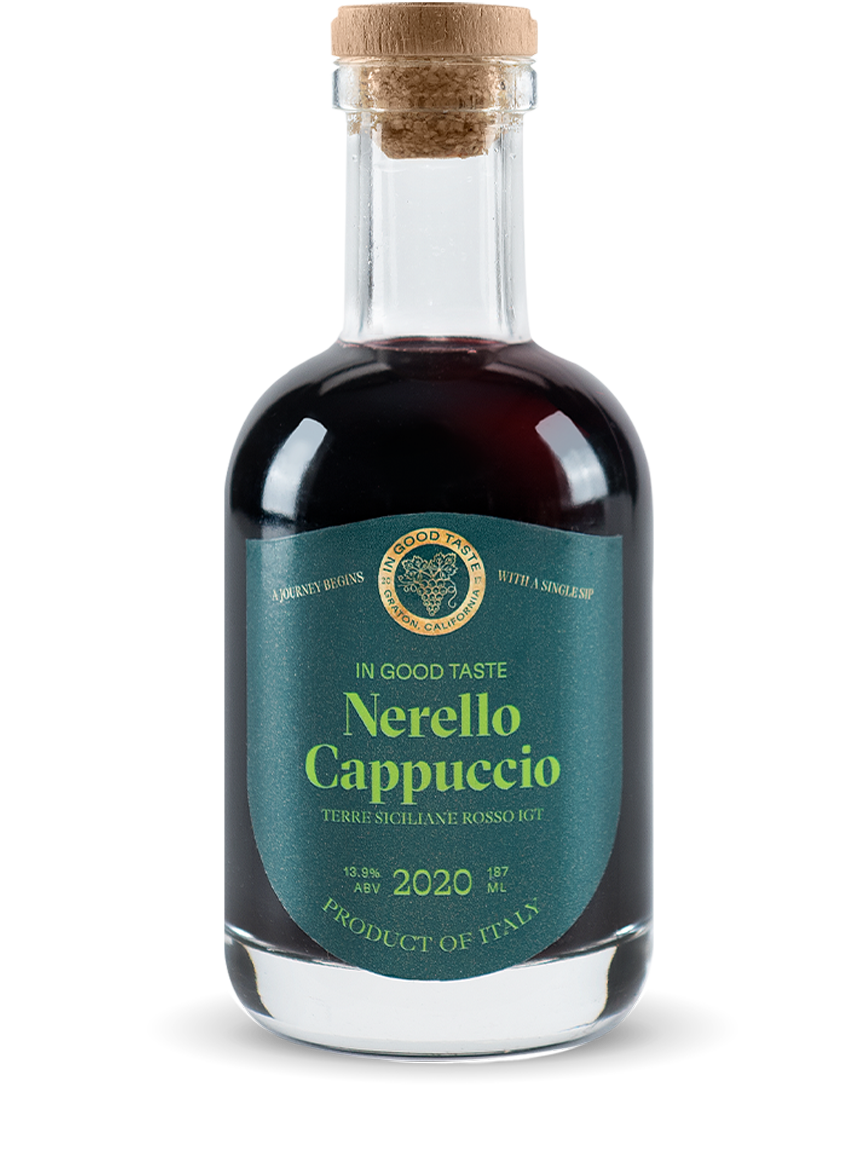 Tasting Notes: cherry, strawberry, tart raspberries Regional Fact: Lombardy is home to dozens of designated grape varieties including barbera. The region also has a knack for producing sought-after sparkling wines made in the traditional method. Food Pairing: Baked pasta
Our Italian barbera comes from Lombardy, home to the world's fashion capital of Milan. As fruit-forward as it is fashion-forward, this medium-bodied barbera has aromas of tart raspberry, cherry, and spice. Warm and joyful, this wine is perfect for the holiday season. It's exactly what you want to drink while eating baked pasta surrounded by friends and family.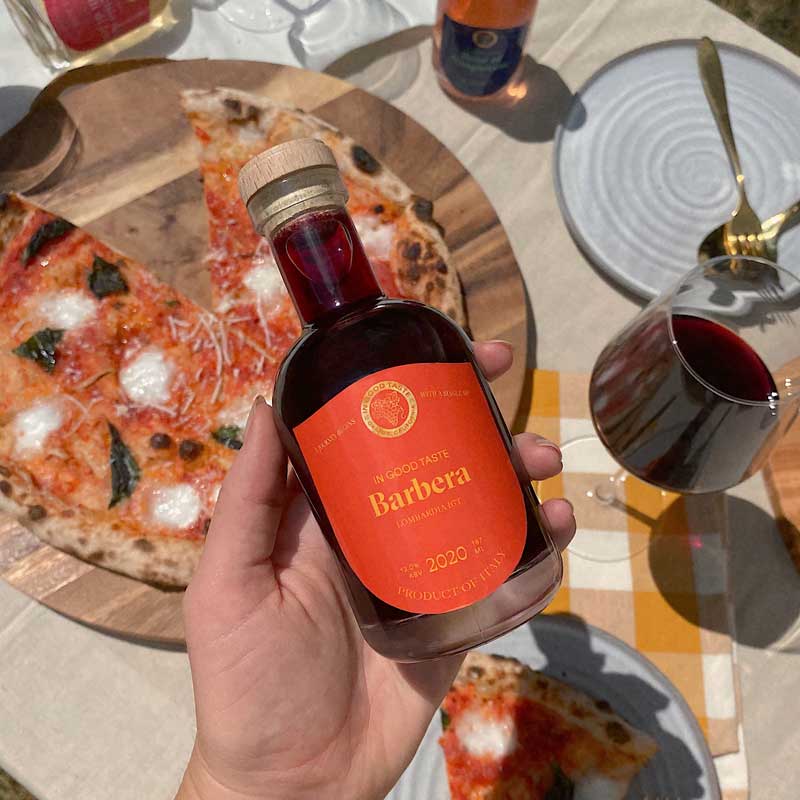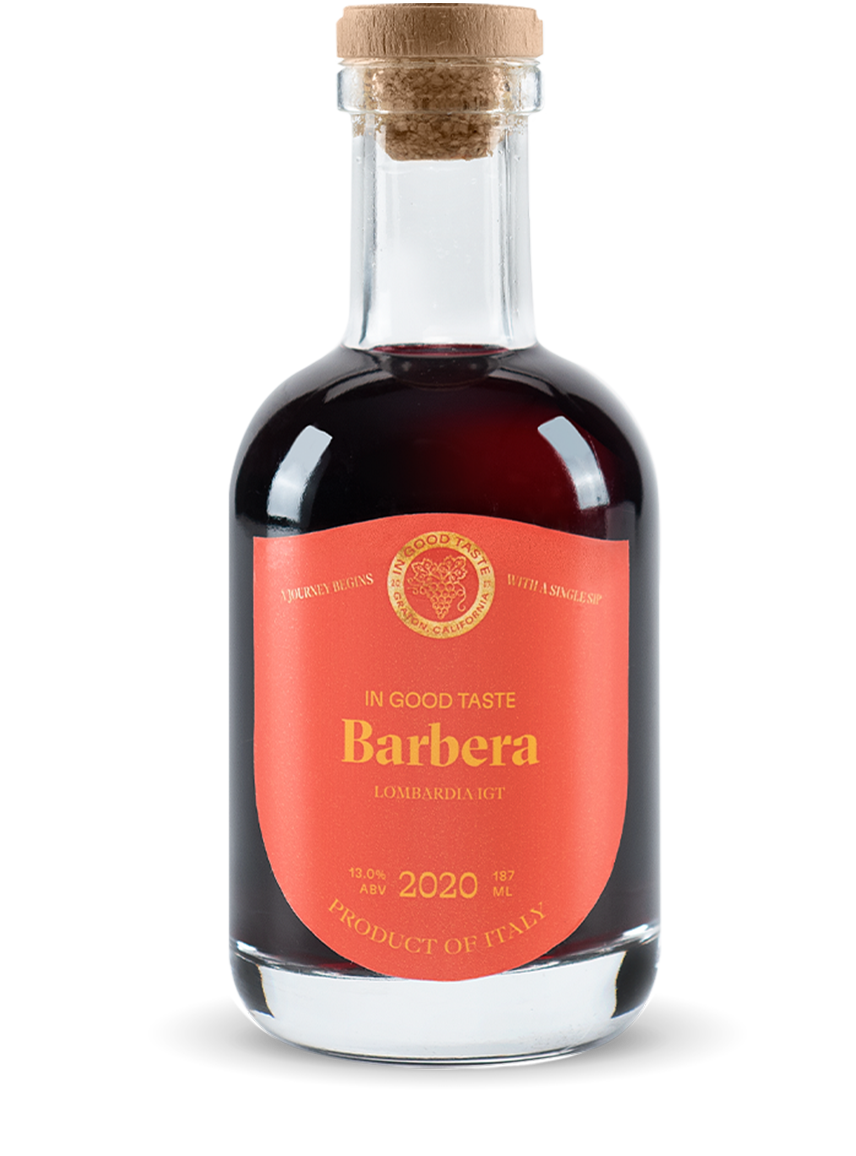 Tasting Notes: blackberry. raspberry, earth Regional Fact: The Bordeaux region is split by the Gironde Estuary. Though Bordeaux wines are typically blends, wines on the Left Bank are dominated by cabernet sauvignon, while wines on the Right Bank are dominated by merlot. Food Pairing: Lamb ragu, Roasted veggies
Known for producing the most elegant red blends in the world, Bordeaux is no newcomer to the French wine scene. The region is as rich in history as its wines are in flavor - the first vineyards were planted sometime in the 1st century A.D. Our Bordeaux is Merlot-based, with intense red fruit aromas of black cherry. Earth, leather, and violet on the palate are balanced by fresh acidity and ultra-soft tannins. Savor this bold red with a lamb ragu or ratatouille, and you'll feel like you're in the French countryside in no time!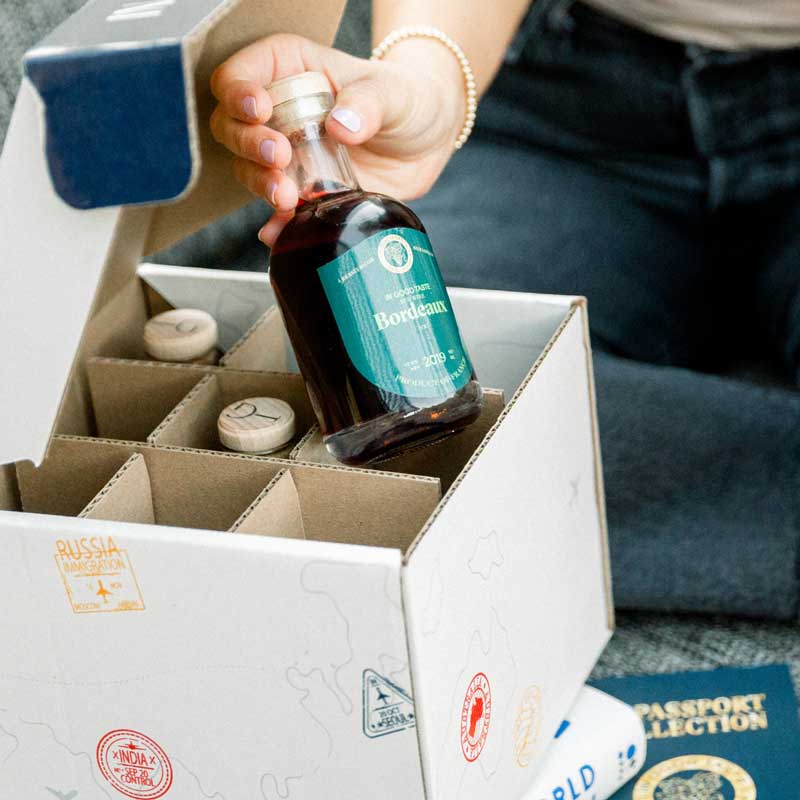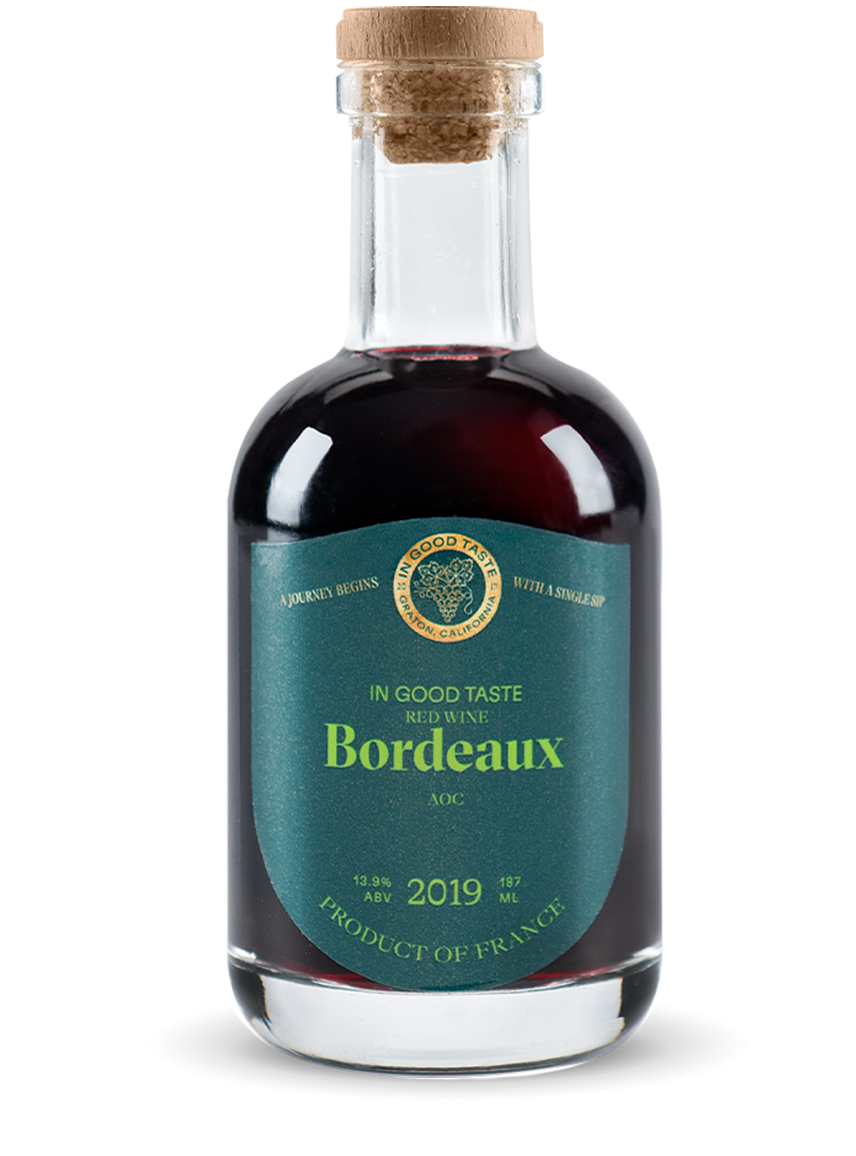 Côtes du Rhône AOC White Blend

Ventoux AOC Rosé

Verdicchio dei Castelli di Jesi

Rosé of Sangiovese

Coteaux Bourguignons

Nerello Cappuccio

Barbera

Bordeaux
-->